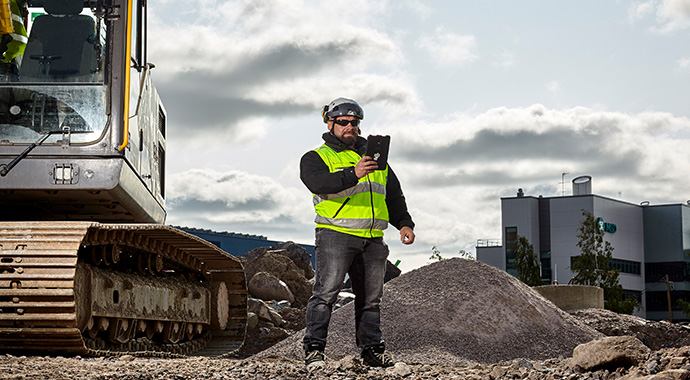 Infrakit's easy-to-use solution and expert support helps to increase adoption and succeed in deployment
Infrakit ensures that all project parties are working with the latest plans and schedule to avoid waste of resources and expensive errors, while improving efficiency at the worksite. Our experienced experts will work closely with the customers, visiting their construction sites and offices when needed. We will always design our service solutions according to the customers' needs to ensure the best results.
With the help of a Deployment project, we can achieve the best possible result together based on our customers' feedback. This project begins with thorough Infrakit training. After that, we will work on the implementation of Infrakit in joint workshops, where we will select targets, create a plan, and set clear goals and indicators for the operations. Our experts will work together with customers to carry out the pilot projects throughout their entire life cycle.
Built according to plans
Infrakit enables easier coordination of plans and quality assurance, which leads to high quality end products that are ready and suitable for digital construction. As built aggregation enables progress and quality monitoring.
"Infrakit is used as a project bank in the project – all plans and real-time quality assignments are handled through Infrakit. This is important for the subscriber of the project, who wants quality recognition to take place immediately during the work and not with the traditional way of delay. Without Infrakit, quality designation would not only be delayed, but it would also require more work: quality reports and their storage in a project bank. Now there is no need for it, but all quality measurements and as-built measurements are displayed in real time when the points are taken.

At the same time, quality data can be combined with the location, ie. material certificates, drums, etc. are documented. It is possible to look at what quality measurements can be found in each case."

Sami Laakso, Project Manager, Kreate on case Klaukkala Bypass
Status reporting and as documented
The pilots will be systematically monitored according to the project plan. The project's results will then be compared and measured with the original goals defined in the workshops. After the project, we will create a final report that clearly records the project's challenges, benefits, and possibilities. Based on this information, we will create a follow-up action plan for the customer, which will further help the practical work and the digitalization of designing and building through concrete actions.
Real time situational awareness and project progress status can be found in the platform with different devices like smartphones and tablets which are easy to use on site. Project progress monitoring can be done with the help of surveying and machine control log points, photos, orthophotos and drone views.
"HSY can view photographs and completed pipeline networks through Infrakit. Photos provide valuable information on how construction is progressing. Infrakit's orthophotos have been praised, as they provide an up-to-date situational image. During the implementation stage, supervisors can also view the photos and situational images in Infrakit on site, on their tablets."

Tomi Mäkelä, Head Surveyor on case: Jokeri Light Rail
Book a Demo
Discover how Infrakit connects your entire infra project operations and drives value to every part of your business.