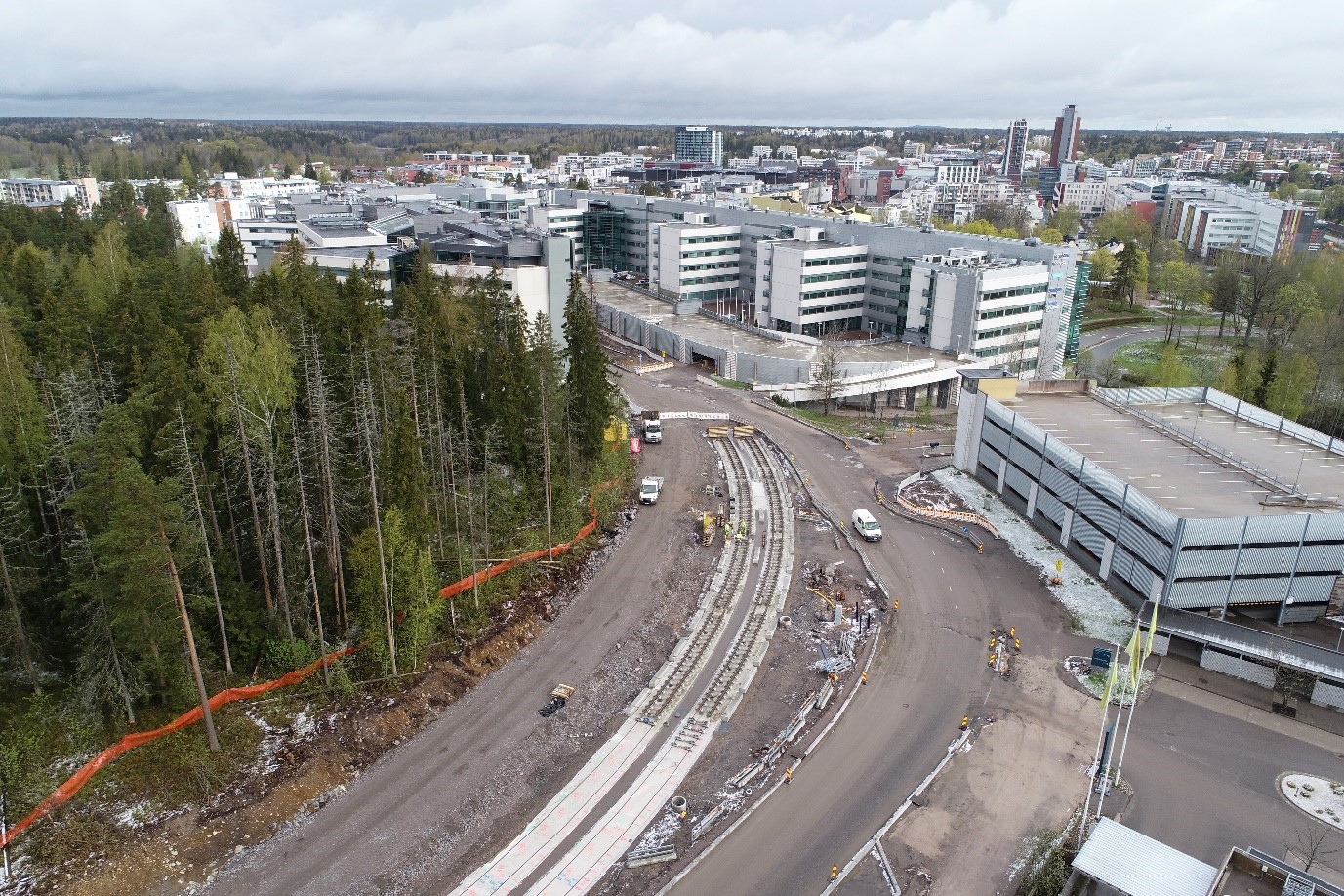 Infrakit helping to build Jokeri Light Rail
Jokeri Light Rail is a 25-kilometre rail connection between Itäkeskus in Helsinki and Keilaniemi in Espoo. The city councils of Helsinki and Espoo accepted a project plan in 2016; this served as a basis for planning and beginning the Jokeri Light Rail building project in June 2019. Bus line 550, which runs along the same route, is the busiest in the Helsinki region, and no bus service will be able to cope with its increasing traffic volumes. Jokeri Light Rail will replace bus line 550, currently used by some 40,000 people every day. Jokeri Light Rail is expected to be used for approximately 91,000 trips on weekdays in 2030, rising to 125,000 by 2050. The construction stage of Jokeri Light Rail is expected to be completed in 2023, with traffic commencing on 2024.
A so-called alliance model is being applied to the planning and construction of Jokeri Light Rail, meaning that the customers, designers and contractors create a joint organisation. The customers are the cities of Helsinki and Espoo. Following public tendering, Ramboll Finland Oy, Sitowise Oy and NRC Group Finland Oy were chosen as the designers. The constructors are YIT Oy and VR Track Oy.
Tomi Mäkelä from YIT, acting as Head Surveyor in the Jokeri Light Rail project, is also an Infrakit main user. Mäkelä sees plenty of benefits in using Infrakit in this model-based project. "We use a lot of photos in construction. Supervisors, employees and excavator operators upload a steady stream of photos on construction progress into Infrakit. We currently have more than 10,000 photos of the project. This is a big number, which is getting bigger all the time. We create folders for the photos. It's also been made as easy as possible to add photos to folders."
Infrakit also makes cooperation easier within the alliance. "HSY can view photographs and completed pipeline networks through Infrakit. Photos provide valuable information on how construction is progressing. Infrakit's orthophotos have been praised, as they provide an up-to-date situational image," says Mäkelä. "During the implementation stage, supervisors can also view the photos and situational images in Infrakit on site, on their tablets."
Construction of Jokeri Light Rail is a massive project that must take account of a wide range of issues. "For example, we create detours for the 550 bus service, and work on construction on streets, which can pose challenges for pedestrians and the flow of traffic at times. On the other hand, people have been understanding about certain restrictions and delays caused by changing traffic arrangements," says Mäkelä.
Jokeri Light Rail construction takes environmental issues seriously. Account is taken of important natural sites along the route. In addition to making natural and environmental surveys, the alliance has assessed the situation regarding issues such as the thick-shelled river mussel, flying squirrel habitats and alien species. In addition to considering biodiversity issues, construction must account for contaminated land and areas containing sulphate, for example.
Like the Jokeri Light Rail alliance, Infrakit is working to create more sustainable infrastructure construction. Infrakit Group's CEO Teemu Kivimäki prefers to divide more sustainable infrastructure construction into three parts. "On individual level, we offer infrastructure builders the best possible tool for data management. Infrakit allows customers, designers and builders to access the same real-time view to make use of data for construction and quality assessment purposes. As all necessary construction data is available in a single cloud service, information becomes easier to share, and both time and material resources are saved.
At societal level, we can do our part to ensure that data management is properly handled, thereby minimising delays and unexpected extra costs in projects that may be small or indeed extensive, such as Jokeri Light Rail. This saves natural resources and is easier on end users, when construction times are not extended unnecessarily. From an ecological viewpoint, our core values include lower emissions, and high-quality, durable construction," summarises Kivimäki.
See here for additional, regularly updated information about Jokeri Light Rail construction.
Book a Demo
Discover how Infrakit connects your entire infra project operations and drives value to every part of your business.