Hannu Varjoranta joins the Infrakit team
Hi, my name is Hannu. I have recently joined the Infrakit team as a Lead Scalability Engineer. My previous job was with Spotify in Stockholm where I worked for almost seven years, focusing on databases and general scalability of the Spotify platform. As we are returning to Finland with my family, I was happy to find such a great fit from Infrakit.
Watching our baby daughter grow has made me conscious of the environmental challenges we face in the future, and Infrakit's mission on making the infra construction industry sustainable convinced me on my decision to join the company. Everyone on the team has positive professional attitude and one of our values is taking care of each other. What a great setup!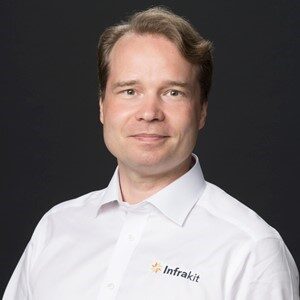 I have a Master's degree on Computer Sciences from TKK (now Aalto University), and I started my engineering career early 2000 working at F-Secure and running my own small consulting business on the side. I have 20 years of experience from many different aspects of software engineering, working on smaller startup doing everything one can imagine when short on staff, and also having exposure to very large systems with demanding uptime requirements and large internal and external user groups.
For example, at Spotify I was maintaining the now decommisioned Hadoop cluster that was for a short while the largest Hadoop installation in Europe with around 2500 servers, and later on helped moving the data processing workflows to the cloud. My deepest specialty lies on (OLAP/OLTP) databases, large scale processing and making things scale.
At Infrakit I will be looking after the backend systems, making sure we scale as we improve and grow our platform globally. Happy to be at your service!
Book a Demo
Discover how Infrakit connects your entire infra project operations and drives value to every part of your business.