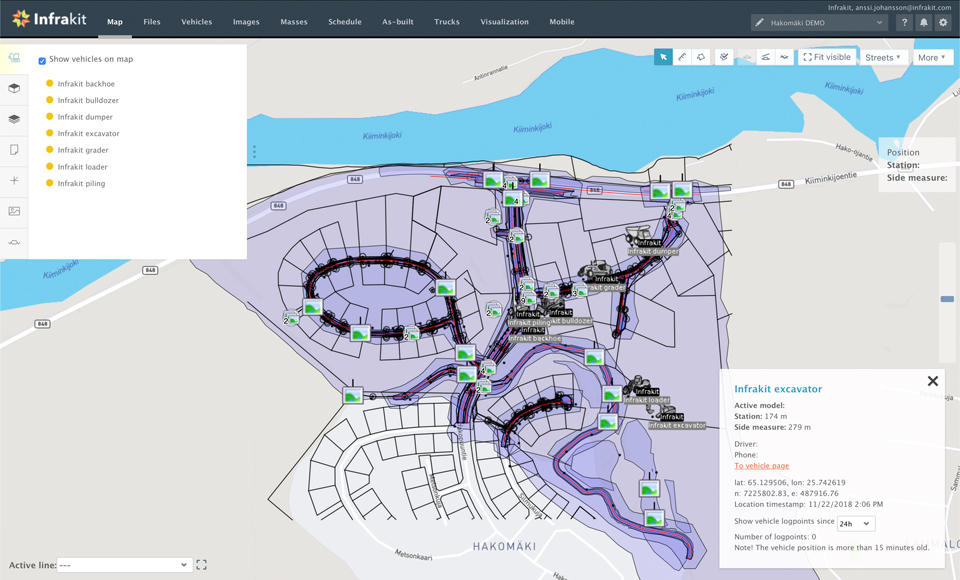 Learn more about vehicles on Infrakit OFFICE™
Once all the necessary design files have been added to Infrakit and can be viewed on the map the next logical step is to add all the vehicles operating at the project site. Once the vehicles have been registered they are listed on the map "Vehicles" tab and a color code indicates the status of the vehicle:
· Green: An active vehicle with active and working data connections to Infrakit. All assigned models have been synced between Infrakit and the machine.
· Red: Assigned models have not been synced between machine and Infrakit. Either sync is ongoing or waiting to happen or sync has failed, and data connections are down.
· Orange: Vehicle is activated for the project with latest models synced but it's not online
· Grey: The vehicle is set to 'on hold' state or the vehicle is not activated for this project.

The separate "Vehicles" page gives an overview of the different vehicles registered on the project, but also gives access to more information about them:
The list of all vehicles registered to the project
The number of online vehicles
The overall efficiency of the vehicles on the project
The total amount of working hours registered by the vehicles.
Additional information about the vehicle (type, station location, last contact, efficiency, connection time and driver/additional information)
Button to "edit" the vehicle (only available for Admins)
Possibility to download locally on your computer the as-built points in format CSV, GT or XML for any given time range.
Efficiency: graph visualization of the efficiency of each vehicle compared to all.
Usage statistics: view for each vehicle, per week, their daily activity with information like exact time, starting/ending station and model used.
Manage rights: to define which models are accessible for each vehicle
Accuracy: detailed information about the as-built point loaded by this vehicle and its accuracy compared to the reference models.
So by having all the vehicles and work machines connected to Infrakit you get a real-time view of their activities on the work site. We support integration of machine control systems from vendors like Trimble, Leica, Topcon and Moba.
Book a Demo
Discover how Infrakit connects your entire infra project operations and drives value to every part of your business.