News: Infrakit Projects in Finland
Infrakit cloud service is the key tool for our clients in hundreds of infra projects.
Infrakit uses open formats allowing the most effective tools to be used in each phase. All relevant information can be managed and shared in Infrakit service in open formats.
Managing and sharing all relevant information in Infrakit allows better collaboration in all construction phases in all your projects.
With Infrakit the knowledge and expertise of all parties is adequately utilized throughout the project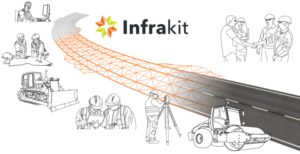 Infrakit allows real-time information to be shared with all members of the project in all construction phases. Infrakit is available on any PC and mobile device with any browser, but also on Infrakit Android App found on Google Play Store (read more here).
In Finland our customers are industry forerunners, e.g. Finnish Transport Agency, The Regional Centres for Transport and the Environment, cities and municipalities, major construction companies, surveying companies, consultants and designers.
Cases: four Infrakit projects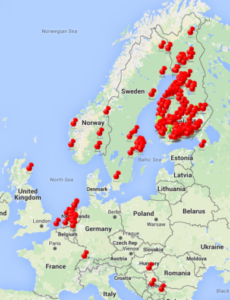 Infrakit projects
E18 Hamina-Vaalimaa. The main contractor YIT utilizes Infrakit. Digital designs, as-built information and other plans and documentation are available through Infrakit. The map-based and platform-independent Infrakit system helps YIT to boost productivity by efficient information management.
In Pietarsaari road 68 project all of the designs, documents and as-built data is shared on Infrakit during construction. When real-time information is shared in Infrakit, the communication between project owner and contractor is more efficient and the collaboration is seamless. Digital information, documentation and reports are available at any point of time in open formats.
A large global stabilizing contractor maximizes the benefits of digital design and as-built information. Infrakit service provides live view of project designs, maps, pipenetworks and the data collected by the surveyors and 3D machine control system. Vital project data management and work documentation is automatic.
A large design company uses Infrakit for enabling continuous interaction with the project owner. Collaboration in Infrakit results in purposeful designing by bringing the project owner into the decision-making process more actively and efficiently. Viability of designs is easy to control with our in-built tools. Designs can be viewed in 3D-view, map view and cross section tools.
Infrakit is the easy-to-use solution for utilizing digital designs and as-built information and documentation in infrastructure projects.
We are constantly developing our service and remain active in infra forums such as BuildingSmart forum in Finland. We are currently working in a project to collect best practices for BIM project owners in Finland. Contact us for more examples on how to use digital information for your benefit.
In the next blog post you can read about our on-going international projects.
Always share up-to-date data on all mobile and desktop devices.

Infrakit – map based service for collecting and sharing up-to-date
information on all mobile and desktop devices.
Book a Demo
Discover how Infrakit connects your entire infra project operations and drives value to every part of your business.