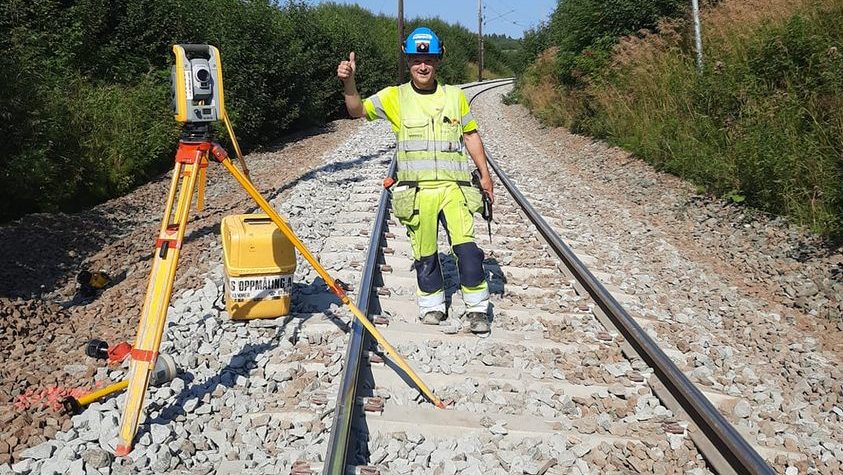 Einar Gladhaug praises Infrakit as a collaboration platform for various professional groups involved in road and water and sewage projects. Einar was previously section manager in the Norwegian Public Roads Administration and now general manager of Bangs Oppmåling AS.
We spoke with general manager Einar Gladhaug about his experiences with Infrakit. Gladhaug has a master's degree in geomatics from the University of Ås and has previously worked as section manager for land surveying at the Norwegian Public Roads Administration for a period of 10 years. It was in this job that he first became acquainted with Infrakit.
When he took over Bang's surveying function in Lillehammer in February this year, he contacted Infrakit. Regarding the background for this, he explains that:
"We had to have a delivery platform where customers could see the data themselves and check that they had received everything that was ordered. There was no need for heavy programs, but one that could show simple measurements and 3D models ».
The advantages of this system are that it reads the format it is delivered in and sees the entirety of the different data sets. This makes it easier for the customer to find the uses of the data. Architects may have their own software, while construction managers and engineers do not always have it.
He believes that a system such as Infrakit certainly plays a significant role in the Norwegian construction industry.
"There are many people involved in all types of projects, and they come from different disciplines. We have geologists, construction managers, surveyors, and others. Then we need a collaboration platform, preferably with a low user threshold. This means that both those who design and those who perform get to see the same data. Infrakit solves this problem in a unique way."
Infrakit is helping to professionalize our company and gives our customers extra service, Gladhaug believes. They have tried some other solutions. However, these have by no means worked as well.
Bangs Oppmåling AS, based in Lillehammer, carries out measuring and surveying work all over Norway, with Eastern Norway as the main area. "Bangs" has long and extensive experience with all types of geomatics assignments and uses Infrakit in several projects.
When it comes to digitization in the construction industry in general, he believes there is a lot left to do. Although we are seeing more and more tablets in the field, there are also many who still use paper drawings.
"Drawing revisions are performed every day. If you get an old drawing, it can quickly go wrong. If you use Infrakit, everyone has the latest version available. Whether it is PDF drawings, DWG maps or 3D models. Infrakit is both GIS and BOS. When new revisions are added, the old data is removed at the same time. This is not always the case with physical drawings".
Visualizations in the form of 3D models and maps are also for many more reader-friendly than rows of numbers and tables. And when everything is on the tablet, it is easy to carry what you need when you are on a trip or inspection.
When asked what it takes to get people to use digital solutions, he says that a low user threshold is essential.
"The difficulty level of the user interface is crucial for most people."
But when it comes to Infrakit as an insight tool, he sees that more and more people are becoming interested.
"People just need to be convinced that this is useful for them. Infrakit is ingenious as a delivery portal."
Book a Demo
Discover how Infrakit connects your entire infra project operations and drives value to every part of your business.