Highlights of the new release, Infrakit OFFICE™ – Version 3.6.3
Once again we are pleased to introduce many new improvements within our newest release! Highlights of the new release are listed below, and the full release notes can be accessed here.
Improvements to OFFICE
Activity charts show user a calendar view, whether the machine on field is operating or not. Together with this it shows if the machine is moving or not. Now it is possible for users to see more detailed activity chart from Topcon and Leica machines, too.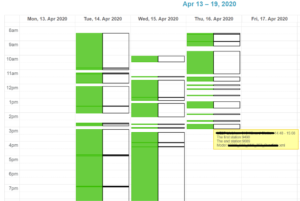 The brand-new opacity sliders can send map tiles and drawings to the background of models so models are more visible. See the video below explaining how to use this new function:
For enhanced modelling features, new version offers point information of as-planned data to be visualized on map when desired. This data could hold information like point code or elevation of the point to name a view. Infrakit can also now read several alignments on a single landXML file.
Photo management is easier with new thumbnail previews and grouping functions. New function enables downloading of photos in groups. For improved tracing of file revisions another new feature brings comments directly to the file import dialog.
Mobile improvements
Handy mobile version of Infrakit has also some nice updates. Now it's possible to take free cross sections by using the touch screen. Using PDFs is more convenient because PDFs are opened to a full screen and PDF file tree is visible by default.
Improvements to TRUCK
TRUCK solution comes in two modes: automatic one that does not need any driver interaction and manual that requires inputs about mass haul from the driver. This setting can be set from project settings whatever suits best for workflow of your project.
Book a Demo
Discover how Infrakit connects your entire infra project operations and drives value to every part of your business.