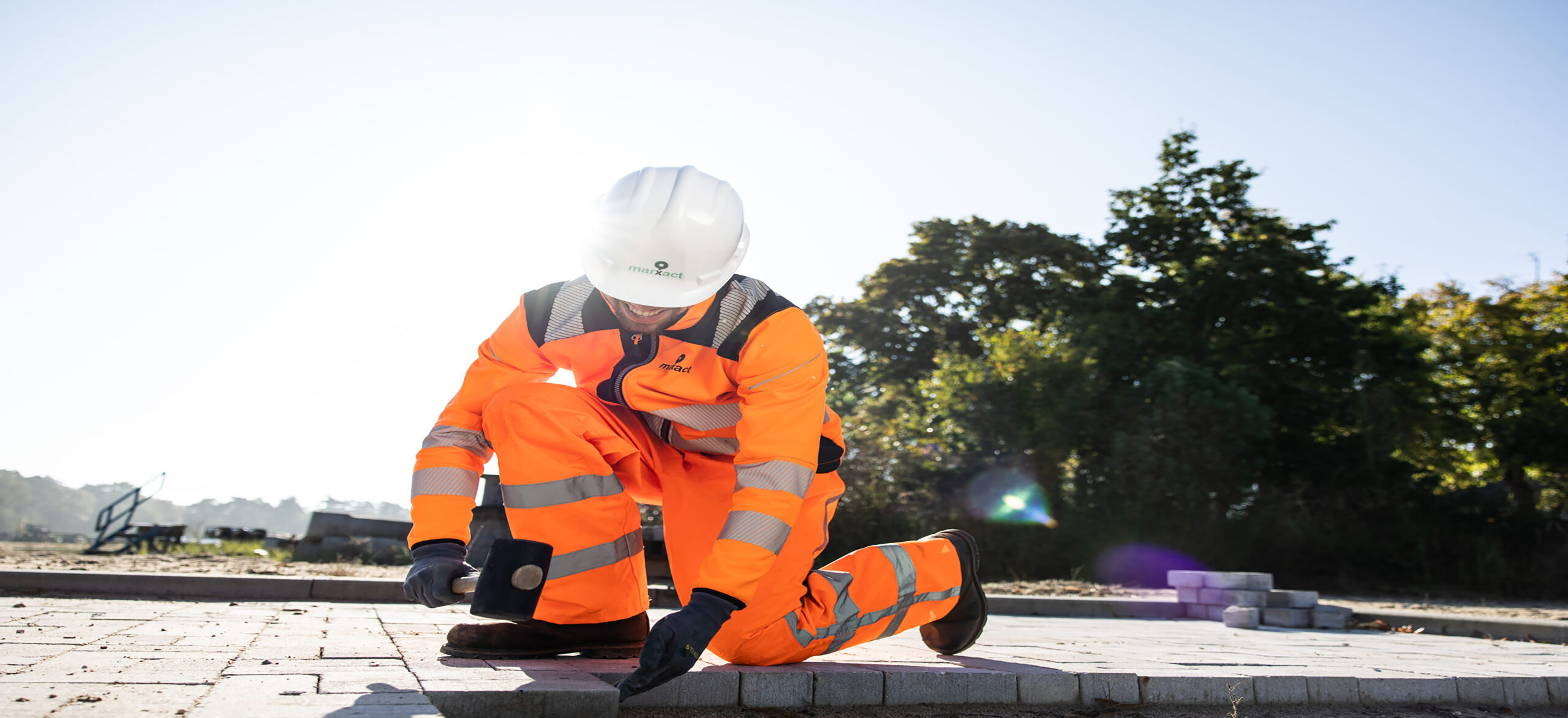 Dura Vermeer repaves Hoofddorp thanks to marXact and Infrakit
Just like the stones in your garden, the pavement in your neighborhood needs maintenance too. These are maintenance projects on a larger scale that involve a lot of stones, data, and responsibilities. Over the next two years, Dura Vermeer will be working on repaving an entire residential area in Hoofddorp, Graan voor Visch. For this, they use a unique marXact hardware and Infrakit software combination. We asked Carlo Eppink, Performer 3 at Dura Vermeer, about their experiences.
Surveying pavement
Within the Graan for Visch project, electrical work is used as much as possible. From motor grinders to shovels and vibratory plates, everything that is electrically available on the market is used. A special electricity dashboard keeps track of what is being saved in diesel. Digitally surveying pavements and pavements and thereby reducing unnecessary paper use, is a great next step to work sustainably.
"We use the Infrakit-marXact combination for surveying, so that we know exactly what we are working with. We use the UNI-GR1 to measure the old situation, after which all specifications costs are entered in Infrakit and these are measured per building specification This gives us a quick and easy detailed overview with which we can show our client, in this case the Municipality of Haarlemmermeer: which streets are being broken up and what quantities are involved. The latter also applies to our communication with subcontractors. It used to be a line on the tire that could fade due to rain or wind, now our points are digital and even centimetre accurate," explains Carlo Eppink.

Unburdening technicians
"We have developed a field app and online cloud environment that suits infrastructure projects, such as these projects by Dura Vermeer", says Infrakit Sales Manager Dennis Wieringa. "The software functions as a dashboard that makes different file types accessible to the project team during the execution phase. As a result, implementers such as Carlo have all relevant drawings of the existing and new situation digitally and directly at hand. An extra functionality in the field app is photo management, where the user can take a photo directly in the field app or upload it from another device afterward. You can connect the field app to the UNI-GR1 from marXact, so that operators can easily measure things for revision on location. This relieves the workload for surveying technicians and gives executive teams the opportunity to keep track of their own progress."
Eppink: "By walking into the neighbourhood with such a surveying pole in hand, you are immediately more visible. I regularly survey myself, just as the area assistant of this project does. He is also responsible for project communication to local residents and is recognized more, because he also gets to work and surveys. That is a nice bonus on top of the other benefits."
From project to project
"Graan for Visch is the second project where I survey digitally in Hoofddorp, after Tudorpark. The great advantage of measuring sewerage in this district is that you can immediately see whether you are in the right place when you mark a point. This is important to us, because we prepare land for both construction and housing. It can take up to a year between surveying the point for the central sewage system and making the actual house connection. You must be able to rely on the previously obtained data then.
The guys in the field survey, project leaders, or project managers can view the progress from behind their PC or tablet. Quality data and progress are immediately visible. For example, the project leader can immediately indicate that something is being skipped, without you noticing it until the end of the project. This saves us a lot of time and sometimes even a new ride to the project location."

A tailor-made surveying experience
marXact co-founder Tommy van der Heijden: "Our goal is to make easy digital surveying available to everyone for a fair price, regardless of their job position and previous experience. You only make this really easy if you let the user choose and enable that person to create surveying processes themselves. An integration with other organizations, such as this one with Infrakit that Dura Vermeer uses, helps with that. You create personalized surveying experience, fully tailored to this specific situation. At the same time, it shows how universal marXact and its product is and how focused on collaboration and (end) users we should all be as parties within this industry."
"This combination seems to have been made especially for us. The software corresponds to AutoCAD where drawings can be loaded directly and surveying is faster too. It is an easy system that you quickly master and through which you can measure, for example, the old and new pavement on a map before you overhaul it, without it becoming your main task. We are going to have a lot of fun with this in the upcoming years", concludes Eppink.
Originally published by marXact (27.10.2021)
Book a Demo
Discover how Infrakit connects your entire infra project operations and drives value to every part of your business.