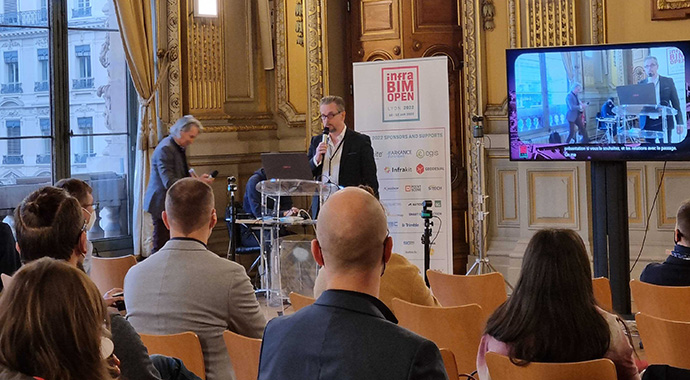 InfraBIM Open – sustainability beyond digitalization
InfraBIM Open was held in Lyon, France on January 10.-12. The event started with an opening session on Low Carbon on Tuesday morning. Between the scheduled presentations, conversation at the stands flowed between partners and customers with people enjoying face-to-face interactions. One main theme for us throughout the event was sustainability through and beyond digitalization.
Presentations were held on Tuesday by Sebastien Cailliau General Manager Infrakit SARL (Infrakit overview) and Pasi Joensuu VP of Business Development (How are digitalization and sustainability connected in construction industry)
"This event suffered clearly because of Covid, but it was important to have it. Despite the pandemic, we had ca 200 people present during both days, which was good, and the same number of people were present online. On a personal level I found it interesting to get to know more French companies and to speak to them about the digitalization level in France.
During my presentation I got a good connection with the live audience. They lived with me through the presentation, and I believe that it will bring something for the future. People understood that sustainability beyond digitalization is what we need to aim for. Sustainability is important because it will affect the world, we will leave to future generations. It was a suitable time to share our vision and have a public dialogue." Pasi Joensuu
"Infrakit France was very happy with the event. First, the organizers did a respectable job managing a physical and online event considering the Covid situation. We were delighted to see that professionals did come to Lyon for very interesting exchanges about digitalization of their current operations and worksites. It makes no doubt that all companies now, from majors to smaller companies take a close look at proven solutions like Infrakit to speed up their digitalization operations and benefit from accrued quality, communication and saved costs on their projects." Sebastien Cailliau
On Wednesday, our Development Manager Manu Marttinen and Sami Ylitervo CEO, Survey & BIM Manager of NORD SURVEY presented a case study on the Use of openBIM platform in entire life cycle of infra project in mining industry in Finland.
"I enjoyed the many conversations and presentations that the event made possible with other experts of our field. The organizing was done well, and I was happy to present our case at the event with Sami" Manu Marttinen
"It was wonderful to be able to participate in an event where top experts had gathered for discussions and presentations related to the industry. I want to thank everyone for their inspiring presentations and meetings, which have been thought-provoking. I look forward to working for an even smarter future with our team, customers and partners." Sami Ylitervo
Thank you to all organizers, speakers and participants for a lovely event!
Book a Demo
Discover how Infrakit connects your entire infra project operations and drives value to every part of your business.