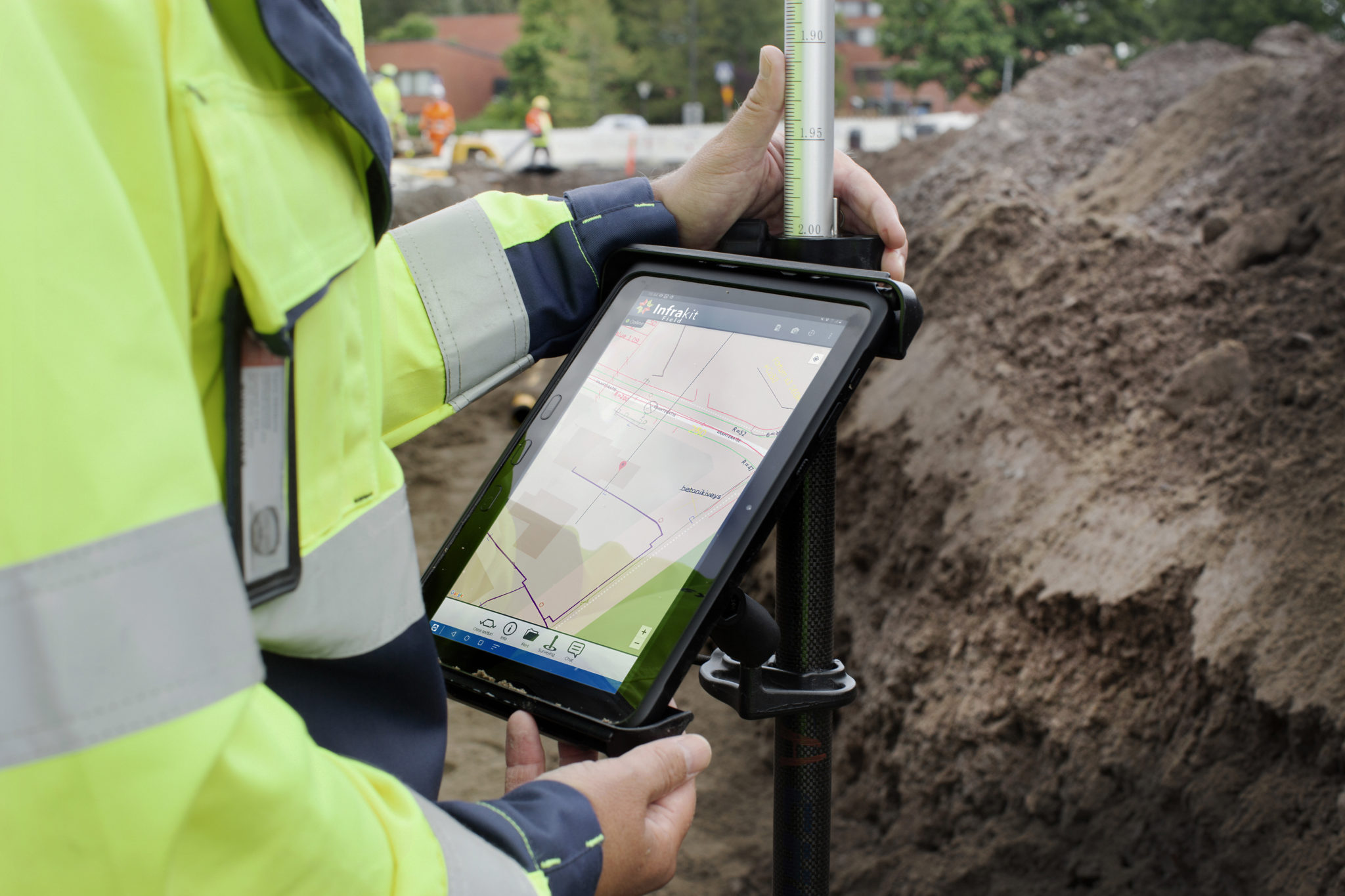 Case: Veidekke – E6 Arnkvern, Norway
In the last three years, a 25 kilometer motorway has been developed at Arnkvern near Moelv. This is a billion project that is now in the final phase. We spoke with Terje Glad and Jan Steinar Stein to hear how the use of Infrakit has helped them along the way.
Terje, who is the BIM Manager of the project, says that Infrakit provides a common production basis for machines, equipment and people. It will be easier to send out information to those who are out in the field, and at the same time have good control. All machines have a GPS position, which gives a degree of overview you have not traditionally had, he says.
In which ways would you say it is an advantage?
"In a project as large as we have, there are both many machines and people, and also a large geographical area. Then you get extra good control. The best thing is that we have that overview of the machines, and that we have the opportunity to easily send out data and make sure that everyone works on the right basis. That is the biggest advantage."
Terje also mentions the usefulness of Infrakit for collecting, storing and having an overview of documentation, with photos and maps in the same system:
"If we discover a discrepancy, an error or a defect, we can easily take a picture and have it in the right place on the map, so that those who have worked in the area can get the picture on their mobile phone or tablet."
Terje Glad, BIM Manager at Veidekke – E6 Arnkvern
Both these basic functions and the possibility of drone photography provide great benefits in terms of time and money, says Terje. "We avoid a lot of mistakes every day by being confident that the machines have the right basis."
"What is very positive about Infrakit is that we have a good dialogue with them. It's a terrific improvement in the program from the time we started until now. We often come up with requests for improvements or new features, and it is continuously developed and implemented. It gets better and better every day ", he adds.
"The most important thing about Infrakit is that it is very easy to use. You can enter lots of different types of data, and it visualizes the information in a good way."
Terje Glad, BIM Manager at Veidekke – E6 Arnkvern
Jan Steinar is the survey manager of the project, and has been one of the main users of Infrakit (and the first one at Veidekke). As a survey manager, he is involved in creating data that is sent out to machines and surveyors. He confirms what Terje says:
"It has helped us to avoid using many different systems to send data to the machines, " says Jan Steinar. "All machine control systems have their web solutions. But when we use Infrakit, we collect the vast majority."
How would you say that Infrakit works in collaboration with different parts of the project?
"It works well. We can post all the models that the machines get, so then everyone from construction managers to ground workers, etc. can see the models, see where we have survey data, see where we have made measurements, etc." You see where the machines are when, for example, a machine operator calls with some questions, then the time spent answering is reduced. You can see which machines are logged in and who has received the latest data.
You have probably used drone photos as well?
"Yes, we make orthophotos 3-4 times a year. It is very nice to see what has been done. We also film the facility with a drone every week. It is used a lot in meetings and for planning. We will see what has been done and what needs to be done."
"Now we have updated drone images and can for example look back at what it looked like in 2018. It is an incredibly important tool. Infrakit has been very responsive to our wishes, and we have had many improvements implemented. It is a very good tool."
Book a Demo
Discover how Infrakit connects your entire infra project operations and drives value to every part of your business.