Infrakit Android App available at Google Play!
You can find the new Infrakit App from Google Play with keyword Infrakit. This is a beta version of the new app that you can use to browse your Infrakit models, alignments and background maps on your Android mobile device. The app has a new camera feature which allows you to take photos on site. The photos are then linked to your location and will show on Infrakit map as icons. Taking photos is available also in offline mode so you don't need network for taking photos in areas with bad connection. When you go back online the photos are automatically synced to Infrakit.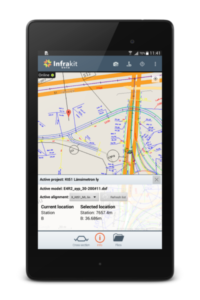 User interface from June 2015
Infrakit Android App now supports the direct use of GNSS receivers such as Javad Triumph-2, Javad Triumph-1, Trimble R10 and Topcon GR-3. You can use the external receiver with the Infrakit app and make measurements and validations with your precise location. The technology behind it is that a connection is established between the GNSS receiver and Infrakit App via Bluetooth, which allows integration development with other receiver manufacturers in the future. If you have another receiver in use, please let us know and we will build the support for it too!
The core purpose of the app is to provide management and surveying staff a tool alongside the web service to extend the benefits they get from using Infrakit on-site. Now they can access the design data and maps faster and easier while adding comments and pictures to notes while terrain visits. Soon the app will have a new user interface and layout, which makes the use even more effortless.
Edit. 2nd of August 2016: See our newer blog post of developing the App, its surveying abilities from here (see how far we have come in a year!) and some user experiences from here.
Book a Demo
Discover how Infrakit connects your entire infra project operations and drives value to every part of your business.