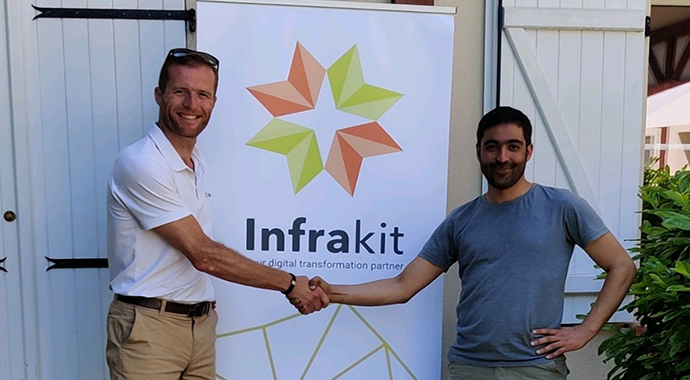 Employee introduction: Amine Sijilmassi Head of Services Infrakit SARL
My name is Amine and I joined Infrakit last fall, as head of services in France.
My story with Infrakit started with a coffee at Intergeo, 4 years ago. I discovered a great and innovative solution, but more than that, I discovered a great team with values. Persons that want to make a real change in the construction industry. These people are now my colleagues, and I am extremely happy to work daily with them.
I come from a land surveying background, with some experience with GNSS antennas and CAD software. During my career, I achieved different roles: Land Surveyor, Technical Support Engineer and CAD Training Manager. These experiences helped me to grow professionally and personally, and to know what I really want to do for the rest of my professional career; help customers. For me, the service, the support and the collaboration with customers are the key to success.
In the past few years, I haven't seen many companies with such a high level of sensitivity to customer satisfaction and success. For Infrakit, top priority is the customer. These are not just words but facts, and here are some examples.
• In the Service Team of Infrakit, even if we work in different countries, we all work together for the benefit of our customers. We have a concept of "Global Services"
• Apart from technical support and trainings, the Services team is offering the expertise of our qualified professionals to help the customer during all the phases of the project
• Surveys to know customers feedback, which is transformed to an indicador/rate
Let's work together to make infrastructure projects more efficient and sustainable. Our success is the success of our customers, and that's one of the biggest motivations to keep doing what we do at Infrakit.
Pictured on the right Amine Sijilmassi with Infrakit SARL's General Manager Sebastien Cailliau
Book a Demo
Discover how Infrakit connects your entire infra project operations and drives value to every part of your business.