Digital Handover Material and Infrakit
The benefits of digital handover material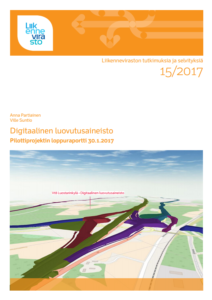 "Digital handover material" Finnish Transport Agency's publication 15/2017
As production and designing in the field of infrastructure is becoming digital, it has been noted that the handover material is also good to have in digital form. Digital handover material makes the lives of the contractor and the project owner notably easier because nobody wants to collect or receive shovelfuls of cross-section images, surveying documentation and other reports. Infrakit offers a solution to this, as it makes it possible to collect the handover material in digital form in its cloud service.
Suntio's report moves the field forward
The most important work regarding digitizing handover material this year is undoubtedly the "Digital Handover Material" by Ville Suntio and Anna Partiainen of Destia, which was published in the studies and reports series by the Finnish Transport Agency. The report describes how the digital handover material was collected using Infrakit in the Highway 8 Luostarinkylä project. The working group of the pilot project was very competent, including Kari Partiainen and Tiina Perttula of the Transport Agency and Petteri Salviainen of Novatron, who all made a valuable contribution to the project.
Read the whole report from here
Book a Demo
Discover how Infrakit connects your entire infra project operations and drives value to every part of your business.