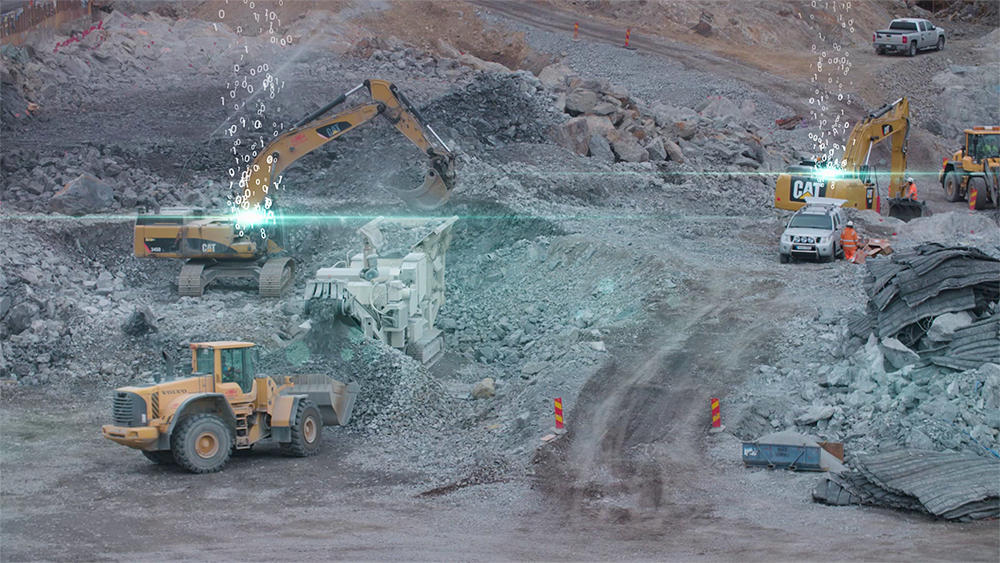 Next generation Leica ConX integration now live
Infrakit is now interfacing with Leica Geosystems' software solutions Leica MC1, iCON site and Captivate through the cloud-based collaboration tool Leica ConX. This allows for monitoring of project progress on construction sites with mixed fleets.
First Leica MC1 points were transferred automatically on first worksite. The first site to have access to this integration is the National Road 4 between Kirri and Tikkakoski, Finland. This project started in 2018 and will be completed by 2023, the customer of the project is Finnish Transport Infrastructure Agency.
National Road 4 is improved between Kirri, Jyväskylä and Vehniä, Laukaa. Between Kirri and Makkarajoki river, the road runs in a new terrain corridor and between Makkarajoki river and the Vehniä multilevel interchange the motorway is in the current terrain corridor.
National Road 4 is constructed as a 2+2 road with a central barrier. In addition to the motorway, a parallel road is constructed for the entire section. (Destia.fi)
Markku Palkama from Destia says that the worksite has progressed well despite the occasional challenges from having several different machine control systems on site. "The points are a part of Destia's quality assurance and the fact that we now have an integration that will bring those points straight to Infrakit is amazing. All in all, everything has gone well so far."
This was enabled by co-operation between two companies, Leica Geosystems and Infrakit. Next generation Leica ConX – Infrakit integration provides possibility to distribute points to Infrakit from various Leica technologies.
"The updated integration between Leica ConX and Infrakit enables the data sharing of as-builts measured with Leica MC1, iCON site and Leica Captivate to Infrakit." Michele Costa from Leica says.
This is available to all current and future customers today. Integration is activated from region to region, decided by local Leica sales distribution. "Interfacing Infrakit with our new software solutions is a big advantage for our customers when digitising construction projects and improving productivity through simpler data handling." says Mattias Korall from Hexagon.
To support the digitisation of the heavy construction industry, Leica Geosystems offers a revolutionising software platform for all machine control solutions. Consolidating all machine applications, Leica MC1 is the one-for-all software solution platform to guide and automate all heavy construction machines.
Infrakit – Your digital transformation partner
Infrakit is an industry-disrupting digital platform to increase infrastructure construction productivity. We are driven by the goal of a sustainable infra industry – while offering 20% savings in total project costs. Our customers include the most advanced construction companies and infrastructure owners in the world. We have been helping our customers to digitalize their infra projects since 2010 – over 30 billion dollars of infra-assets has been built with Infrakit in more than 2000 projects in 11 countries.
Leica Geosystems – when it has to be right
With more than 200 years of history, Leica Geosystems, part of Hexagon, is the trusted supplier of premium sensors, software and services. Delivering value every day to professionals in surveying, construction, infrastructure, mining, mapping and other geospatial content-dependent industries, Leica Geosystems leads the industry with innovative solutions to empower our autonomous future.
Hexagon is a global leader in sensor, software and autonomous solutions. We are putting data to work to boost efficiency, productivity, and quality across industrial, manufacturing, infrastructure, safety, and mobility applications.
Our technologies are shaping urban and production ecosystems to become increasingly connected and autonomous — ensuring a scalable, sustainable future.
Hexagon (Nasdaq Stockholm: HEXA B) has approximately 21,000 employees in 50 countries and net sales of 3.8bn EUR.
Book a Demo
Discover how Infrakit connects your entire infra project operations and drives value to every part of your business.