Collaboration in 3D visualization of Infrakit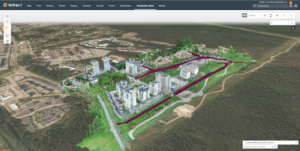 The 3D collaboration model of Infrakit allows the client, the designer and the builders to visualize design files and review them in design and site meetings. The cutting and measuring functions provide tools for verifying interoperability of multi-discipline design. With 3D collaboration model available in browser, the client can monitor progress of the work and lead the design and construction projects while keeping the entity well under control. How does the new 3D view differ from its predecessor?
Our 3D view has been completely redesigned, and the new version provides better performance, free zooming for different levels of detail, and viewing Pointscene point clouds and orthophotos in the same view together with design data. Everything purely in the browser without separate software installations.
Other new features include measuring the area and fitting the design to the screen. Progress does not stop here; other small improvements are coming, e.g. camera management improvements are now underway.
Highlights of the new release
Drone flight plan
Drones are used frequently on modern construction sites for providing enhanced situational awareness. Infrakit cannow be used to create flight plans for drones – simply draw an area and export in KML format as on the following video: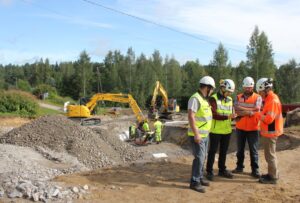 User configurable map tiles
As a new feature Infrakit allows the project admins to connect customized map tiles for projects.
Pointscene integration
Infrakit–Pointscene integration with orthophoto map tiles was initially introduced in spring 2019. Now theintegration supports also point clouds created by laser scanning or stereogrammetry. The source for the point cloudis entered to the dialog on new visualization page.
Model properties on visualization
Due to the new release, Infrakit is now able to visualize model properties. At the moment they are visible only on the legacy visualization page, but will be available on the new visualization page later as well. Right click on top of the model for object properties dialog:
Book a Demo
Discover how Infrakit connects your entire infra project operations and drives value to every part of your business.