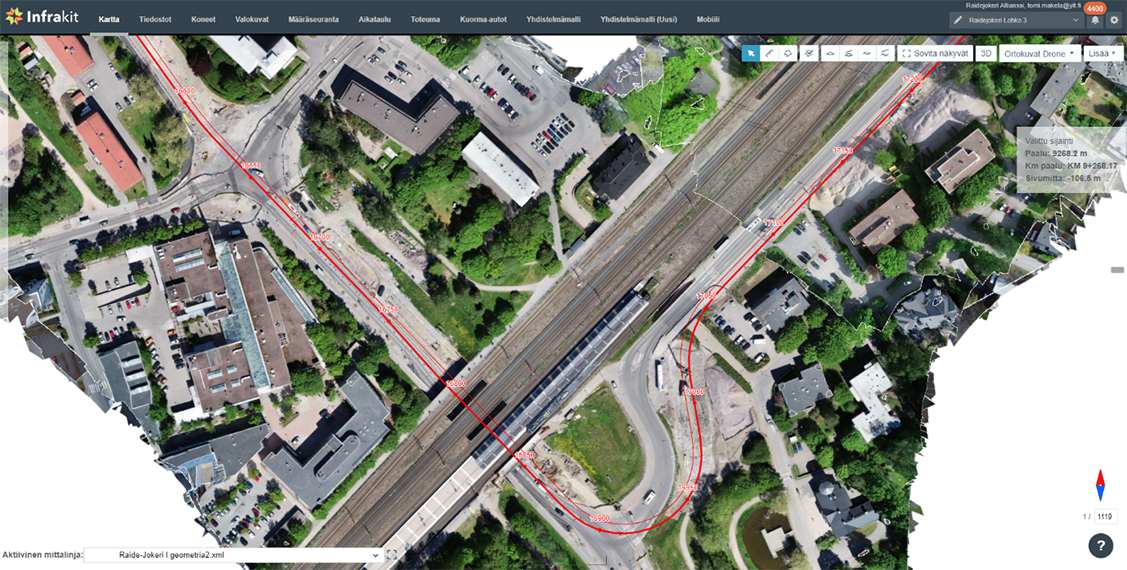 Jokeri Light Rail set to finish ahead of schedule
Construction phase of Jokeri Light Rail is estimated to finish ahead of schedule next year with traffic set to start earlier than planned in 2024. Once construction is finished, the infrastructure will be thoroughly tested.
Jokeri Light Rail construction has lasted for about two years and the Espoo side of the project will be completed this year. In 2022 finishing touches will be conducted in Espoo and construction work in Helsinki will continue in Patterimäki tunnel, Eliel Saarisen road, Viikinkaari and Varikkoroad.
Both end stops in Keilaniemi and Itäkeskus are to be finished in 2022 as well.
Construction has been boosted in part by the Covid-19 pandemic. Less traffic has enabled construction to move faster than expected in Espoo's Otaniemi and Leppävaara.
Faster construction has in part made it easier to stay in budget says Project Manager Juha Saarikoski on Helsingin Sanomat (18.5.2021, in Finnish). Faster completion also brings a lot of cost savings says Saarikoski.
According to Saarikoski staying within budget and schedule is important when it comes to the reputation of large infra rail projects.
"This is a big deal for both us and any future railway projects. I've considered it very important to take this as a positive example. Big infrastructure projects occasionally get a bad reputation in Finland."
Check out the original article in Finnish here.
Infrakit is used in the project as a flexible collaboration tool for all parties.
Tomi Mäkelä from YIT, acting as Head Surveyor in the Jokeri Light Rail project, is an Infrakit main user. Mäkelä sees plenty of benefits in using Infrakit in this model-based project. "We use a lot of photos in construction. Supervisors, employees and excavator operators upload a steady stream of photos on construction progress into Infrakit. We currently have more than 10,000 photos of the project. This is a big number, which is getting bigger all the time. We create folders for the photos. It's also been made as easy as possible to add photos to folders."
Infrakit also makes cooperation easier within the alliance. "HSY can view photographs and completed pipeline networks through Infrakit. Photos provide valuable information on how construction is progressing. Infrakit's orthophotos have been praised, as they provide an up-to-date situational image," says Mäkelä. "During the implementation stage, supervisors can also view the photos and situational images in Infrakit on site, on their tablets."
Orthophotos in Infrakit powered by Pointscene
Check out our case study about this project here.
Read about Infrakit's benefits for all parties involved in infra construction here.
Book a Demo
Discover how Infrakit connects your entire infra project operations and drives value to every part of your business.