It's all about the map – get familiar with the Infrakit OFFICE™ map page
Map page is at the core of Infrakit. In Infrakit OFFICE™ you can see your construction site in real-time with all the relevant information: 2D and 3D designs, as-built data, registered vehicles and equipment and uploaded photos and documents.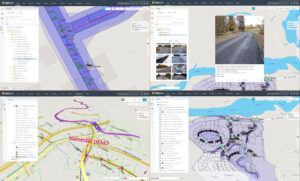 Infrakit uses open file formats. These are the current supported file formats and we are adding support for more as need arises.
Triangle mesh – File is a DXF or LandXML triangle mesh surface
IFC for structures (steel, concrete, etc.)
Pipe networks (LandXML)
Line model – File is a LandXML/Inframodel line model.
Map – DXF map file can contain lines, points, texts and other shapes
Alignment – File is a Landxml alignment.
Document – PDF, Excel, Word
Photos – JPG, PNG, GIF, TIFF.
Infrakit OFFICE™ does not require any local installation of software, it simply runs in the web browser. On the map page you have a selection of different tools like for example distance measure tool, area measure tool and cross section tool. You can quickly switch between different background maps from street map to satellite view.
If you want to read more about the map page check out this article in our knowledge base »
Book a Demo
Discover how Infrakit connects your entire infra project operations and drives value to every part of your business.