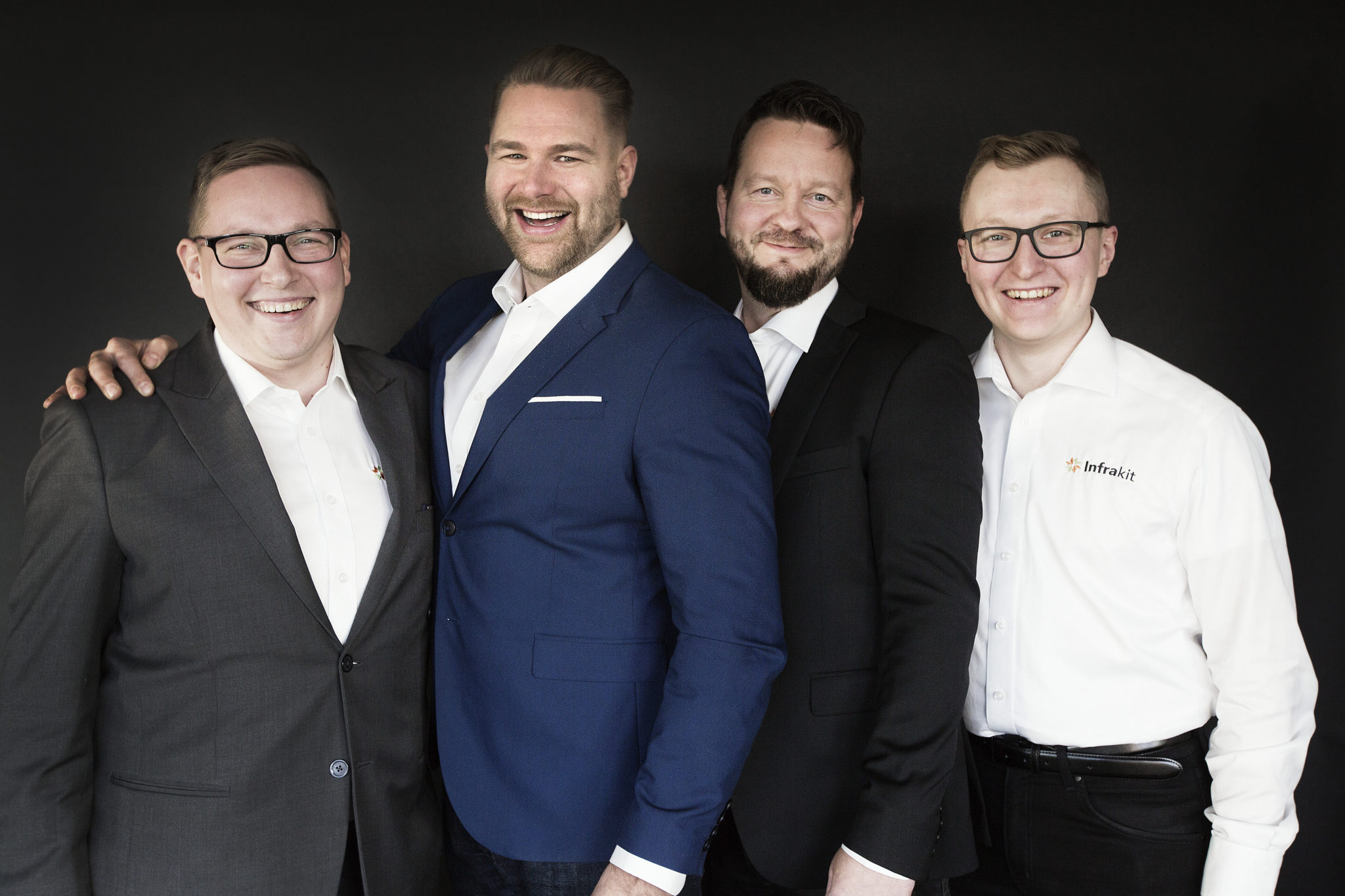 Infrakit BIM Services? – Meet our BIM-team!
Photo: Infrakit BIM-team Visa Hokkanen, Ilkka Tieaho, Tero Maijala and Atte Kajander
We are happy to start our introduction series with our brand-new BIM-team, and in particularly with two true professionals in the field of BIM: VP of BIM services, Ilkka Tieaho (second on the left) and Senior BIM Specialist, Tero Maijala (third on the left). Even though both of them started their journey at Infrakit recently, working with Infrakit isn't unfamiliar to them – in their previous careers both Tieaho and Maijala gained experience working in projects where Infakit was used. Together with the rest of the team one of their primary goals is to serve as a link between the clients and the remaining Infrakit staff. With their previous experience working on the customers' side, they have gained valuable knowledge of the challenges and advantages that clients may face with Infrakit.
Tieaho, who started last August, says it has been a pleasure to notice how smoothly he was welcomed to his new work community. His working history contains a great deal of experience from designing and consulting, especially in the designing phase of construction projects. "I see coming to work at Infrakit as a great opportunity to create something new. It has also been interesting to see how working with BIM looks like from a tech company's point of view", Tieaho reflects. One of the crucial strengths of Infrakit in his opinion is the company's flexibility: "We must continue to provide fast and close support to our clients."
One of our most recent employees is Tero Maijala, who started his work last November. He says that moving over from working as a land surveying specialist at a worksite, to the other side of the table has felt like a natural choice. " [before] I was building infra and now I'm beginning to build Infrakit – building things hasn't stopped." In his previous job Maijala has worked in close proximity with Infrakit almost daily since the beginning of the 2010s. In the period of the last six months he has seen a change in how the client's viewpoint has become a stronger priority and wanted to be a part of the solution. "The thing that me and Tero have in common is that we both believe Infrakit to be an excellent and functional solution in designing and construction projects", Tieaho sums it up.
The mission of the recently created BIM-team is to help clients use Infrakit in their daily work. Vital in achieving this goal is organizing training sessions, providing consultancy and developing new and more functional customs so that our clients will gain added value with Infakit. Their first task has been contacting current clients and mapping out their needs, but Tieaho as well as Maijala both envision that in the future the BIM-team has also a lot to offer to the technical development.
Book a Demo
Discover how Infrakit connects your entire infra project operations and drives value to every part of your business.