Infrakit Android App in Use on Infra-Construction Sites
Infrakit App and GNSS devices
Infrakit App works with most GNSS devices which makes it a useful tool for on-site tasks that require accurate positioning such as land surveying and measuring as-builts. You can start surveying without preparation and the results are shown on Infrakit in real time. Measuring is made easy with Infrakit's map-view.
The App is fully-integrated, for example, with following GNSS devices: Topcon GR3, Javad Triumph-2/Triumph-1, Trimble R10 and newest Leica GS14 and CHC receivers. It is possible to connect any GNSS device supporting Bluetooth. For more information contact our sales: toni.louhisola@infrakit.com, +358 40 562 5444.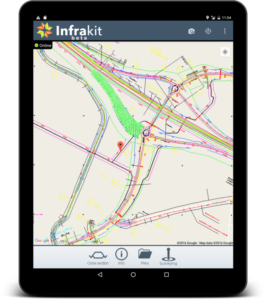 Infrakit App new user interface
With the App you can work with Infrakit in offline mode
Use 2D/3D materials uploaded to Infrakit and work on your chosen coordinates. Utilize Infrakit also for preparing other documentation and photographs from the site.
Read below what Destia's Chief Surveyor says about using Infrakit App: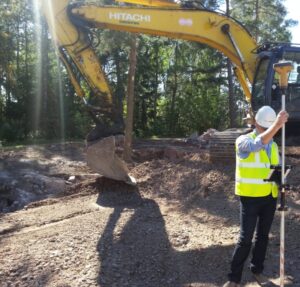 Infrakit App + GNSS
"For site managers' use there is big potential. Let's look at small projects where land surveyor is not always available: with Infrakit App + GNSS device you can measure even protective tubes or excavations and make transport arrangements when you know the precise locations of cross-sections. You can make small mass calculations more accurately, bigger mass calculations always require more measuring work. I use Infrakit App also for surface area calculations and blastings – there are many ways to use it." -Tero Maijala, Chief Surveyor, Destia
Book a Demo
Discover how Infrakit connects your entire infra project operations and drives value to every part of your business.