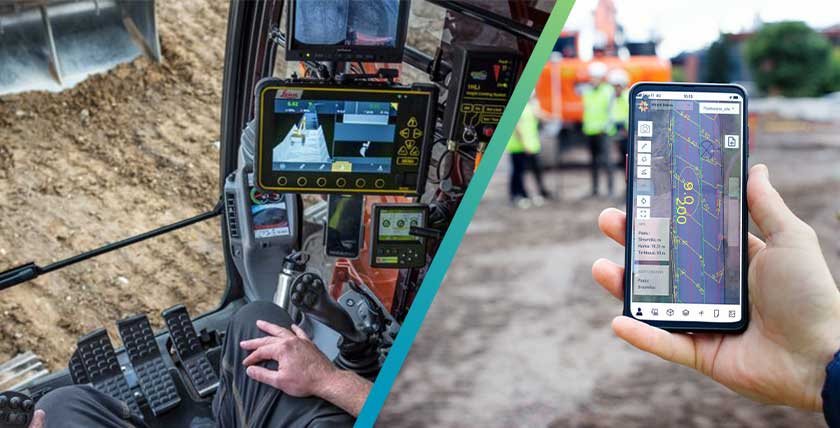 Hexagon's Geosystems division and Infrakit Group Oy have entered in a technical cooperation
Hexagon's Geosystems division and Infrakit Group Oy have entered in a technical cooperation to improve integration between their cloud platforms, field and machine control solutions.
The agreement will enable efficiency gains to innovative construction companies who are looking to improve their construction processes with digitalisation.
The new agreement will allow direct interaction between the Infrakit cloud platform and Hexagon's Heavy Construction solutions, including Leica Geosystem's products such as the Leica ConX cloud-based collaboration tool, the Leica MC1 machine control solution, the Leica Captive surveying field software and the Leica iCON site construction field solution.
This cooperation creates additional value for construction companies by enabling a straightforward and easy-to-use integration of mixed fleets of heavy construction machinery.
"We are very excited to have a closer cooperation with Hexagon Geosystems, a leading technology provider of sensor, software and autonomous solutions for the construction industry. Together with our partners, our goal is to work towards the success of our customers and the sustainability of our industry. We see that the way forward is a more open world with integrations between all systems and tools used on site," says Teemu Kivimäki, founder and CEO of Infrakit Group.
"It is a great stride forward to be able to simplify the usage of the right data, strengthen workflows and increase our customers' productivity from small to larger infrastructure projects for a sustainable future together. Hexagon Geosystems are very happy to work closer with Infrakit to serve our common customers better, today and for the future," says Magnus Thibblin, President Hexagon Geosystems Machine Control division.
About Infrakit
Infrakit is a cloud service for infrastructure construction projects with a vision of a sustainable infra-industry. Infrakit offers disruptive real-time situation awareness and data flow to and from the construction site, shared by all project parties – infrastructure owner, general contractor and subcontractors. Infrakit is an independent platform, connecting all brands of CAD systems, surveying equipment and machine control systems.
About Hexagon
Hexagon is a global leader in sensor, software and autonomous solutions. We are putting data to work to boost efficiency, productivity, and quality across industrial, manufacturing, infrastructure, safety, and mobility applications. Our technologies are shaping urban and production ecosystems to become increasingly connected and autonomous — ensuring a scalable, sustainable future.
Hexagon's Geosystems division provides a comprehensive portfolio of digital solutions that capture, measure, and visualise the physical world and enable data-driven transformation across industry ecosystems.
Hexagon (Nasdaq Stockholm: HEXA B) has approximately 21,000 employees in 50 countries and net sales of 3.8bn EUR. Learn more at hexagon.com and follow us @HexagonAB.
Book a Demo
Discover how Infrakit connects your entire infra project operations and drives value to every part of your business.