GUEST POST: Digitization and Transparency are Advantages also in Infrastructure Construction
Digitization and Transparency as Assets
(Written by Teemu Tervahauta)
Improving productivity and competitiveness in general has lately been publicly discussed in Finland. Luckily, concrete actions have been taken in order to improve productivity in infra-construction industry. BIM has gained a significant role in larger infrastructure projects already.
The basic idea of BIM is processing project data in an open, digital format instead of paper documentation so that the data can be utilized and shared more diversely. Fundamental in BIM utilization is lifecycle thinking, and seeing the big picture of the project instead of a single work phase at a time. Comprehensive modelling might increase designing costs but it can also save you a remarkable amount of money during the construction phase.
Transparency and Compatibility
What does transparency exactly mean and why should you strive for it? It is about how machinery, software and systems connect with one another. The question is justifiable since many worksites have various manufacturers in use, such as 3D machine control systems.
If the machine control system in use at your worksite requires designs in a manufacturer-dependent file format, the design data typically has to be converted into their own format with their own software. Format conversion is an additional work phase and, in addition, the metadata included in the original designs can be left out in the converted format. If the machine control system reads open formats instead, the processes will become more streamlined and irrelevant, extra activities will be eliminated.
Open Standard
In Finland, an open LandXML -based Inframodel3 -data transfer standard has been developed as a result of cooperation of several active parties. It is not just about file format but about diversely utilizing metadata of the modelled objects, such as codes and names.
Inframodel3 can be perceived as 'intelligent' data whereas the old data transfer formats, like dxf, represent 'un-intelligent' information. Inframodel3 loses its meaning if it is being used as a format among other formats. Full utilization of metadata is key to efficient use of Inframodel3.
On today's infra-construction worksites digitization and transparency are therefore assets. Data modelling and 3D machine control represent ways of working that help infrastructure projects to be implemented more efficiently than before. Improving productivity does not result in increasing the hours worked, but in completing the work smarter than previously!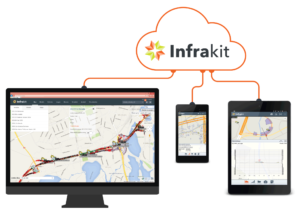 Infrakit also represents transparency. As a platform-independent worksite management service, it works with machine control systems by different manufacturers.
The author, Teemu Tervahauta, is the Business Development Manager of Novatron Ltd., Novatron.
Editor's note: This post is first in our Guest Post series where infra-construction experts and experienced doers tell about the transformation of infra-construction industry, digital leap and new winds of change in the industry. The posts are written by the authors themselves and the texts have not been edited (except a word-for-word translation into English).
Book a Demo
Discover how Infrakit connects your entire infra project operations and drives value to every part of your business.