We participated in the GIS Expo (Helsinki, Finland) on November 3rd and 4th, where we launched the integration of Infrakit Android App with GNSS devices. This attracted visitors' attention due to the new working opportunities it provides for them. At our stand we presented Topcon, Leica, Javad and CHC GNSS devices and we also tested compatibility with Topcon Hiper V receiver that makes RTK corrections connected via radio or Internet.
We also took part in the expo seminar by giving a presentation on how Infrakit digitizes construction sites. A small but active group of participants from infrastructure construction industry came to listen to it and they were very interested to hear more.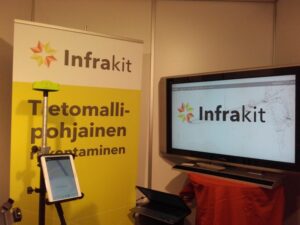 General feedback from the expo:
Site managers like the fact that with Infrakit they gain an easy access to centimetre-accurate data and they can do measurements and documentation more easily. Smaller companies were excited about our surveying package (Infrakit App + GNSS device) that would allow them to do land surveying themselves without the need to hire external surveying staff.
Project owners liked that photographs, comments and other documentation can be added straight to the map view on Infrakit. They were also impressed by the transparency Infrakit brings in terms of real-time project tracking.
"Room for innovativeness and digitization"
It was great to see new technologies presented by GIS Expo participants such as virtual reality, airdrones, map-based analytics and many more. The CEO of RAKLI also talks about this in his blog: "My interest in new technologies and products is both personal and professional; the new RAKLI strategy emphasizes innovativeness and digitization". At Infrakit we are glad that such thinking and desire for innovation spreads in our industry. We would be happy to collaborate with other companies to promote this spirit.
Have a great week everyone!
Book a Demo
Discover how Infrakit connects your entire infra project operations and drives value to every part of your business.