We as Infrakit are excited to have been able to accept a slot at Bauma 2019! It is the first time we will have our own stand (No 419) in hall A2.
It was on very late notice that we've got an offer and I have no idea how the program manager has done this, but we are thankful that we have the opportunity to present our great Open BIM Cloud for infra construction industry. In only less than 4 weeks Bauma 2019 will open its gates! Feel free to pay us a visit.
Our stand will get about this look and is 23sqm: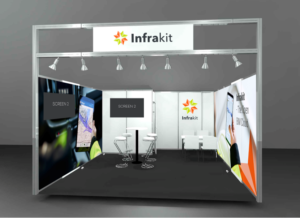 Very often infra projects are lacking easily accessible information at the right time and the right place. Infrakit gives companies and project owners the possibility to reach the needed information any time any place. When we talk about BIM, the I in BIM is extremely important to avoid mistakes and redo of work at high costs. When construction site workers and equipment have all the necessary information available when needed unnecessary costs will be avoided and time schedules can be made as planned. So, no penalties there.
Last but not least: Infrakit is working with partners like Trimble, Leica, Topcon, Moba/Novatron and others! So, we are brand independent, which means you can have all your information in one application! No longer searching for information, which saves you again a lot of time!
Come and visit us at our booth in hall A2.419!
Book a Demo
Discover how Infrakit connects your entire infra project operations and drives value to every part of your business.