Faster, cheaper and higher-quality roadworks
Digitalization is making strong advances in infrastructure construction. Pioneers can benefit from the ease of worksite monitoring it brings as well as time and cost savings.
Traditional infra construction has involved printing plans on paper and transporting them long distances around the worksite. This leads to inefficiency and errors. The increasing prevalence of mobile devices, improved communication connections and GPS control systems in work machinery now enable the adoption of digital models. Digital cloud services enable faster construction, more efficient use of resources and less errors and waiting at sites.
"With digital plans, everyone knows what they need to do and have access to the latest updated plans. At the core of it all is an information model where the designs are made as 3D models," says Teemu Kivimäki, CEO of Infrakit.
In Finland, the digitalization of infra construction is at an advanced level, at least among certain players. Destia is currently the most digitalized company, even on a global scale. Digitalization has allowed the company to decrease project turnaround time by a third. The City of Espoo also uses a digital information model for a variety of purposes. However, Kivimäki considers it problematic that municipal decision-makers often seek solutions from abroad rather than turning to the world-class expertise found in Finland.
"The Infrakit cloud service is an independent and neutral platform that supports all devices. The use of Infrakit makes the project transparent, and processes can be systematically improved. The service provides instant visibility into what's going on at the worksite and how efficiently. The cloud service can also be shared with others," continues Kivimäki.
Infrakit operates through a map view that shows all the work machinery at the worksite, project-related plans, and how the work is progressing. The view is real-time. Kivimäki notes that, in the old way of working, plans and the actual as-built status were often only approximate. By using detailed 3D models, it can instantly be seen if there are deviations at the construction site. This makes for higher quality.
Work is more efficient when all machines are in operation at once
Road construction is always complex and involves a great many different elements. If one work phase lags behind, it has an exponential effect on the following phases. Using a digital model reduces complexity, as users have a clearer view of the whole and everyone has access to the same plans. Project speed is also increased when machinery can be operated more efficiently. Most of the work is done with machines, yet it is common at worksites for only one machine out of five to be in operation at any one time, while the others wait.
"Using Infrakit, four out of five work machines can be operational at once. The efficiency of the machines is increased by 30 to 40 percent on average," says Kivimäki.
Road projects are usually tax-funded and cause disturbances to traffic. Hence, reducing project turnaround time and decreasing costs also benefits the local residents. Costs are further cut by reduced material consumption. When the work is done right the first time without needing to tear down previously built sections, less material is used.
"The cost savings brought by digitalization compared to previous working methods is about 20 percent. Of this, the use of Infrakit accounts for some 5–10 percent," Kivimäki remarks.
Infrakit
– Founded in 2010 as a University of Oulu spin-off project.
– Undergoing strong growth, with doubled revenue in 2018.
– Subsidiaries in Sweden, Norway, Denmark and the Netherlands.
– Employs 25 people, about half of them in Finland.
"With digital plans, everyone knows what they need to do."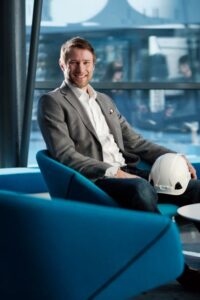 Photo by Aleksi Palmqvist
Teemu Kivimäki hopes that municipal decision-makers would see the benefits of digitalization in infrastructure construction and take advantage of the expertise to be found in Finland.
Author Suvi Huttunen, translation from Finnish by Delingua.
(Read this article in Finnish – the link to the original Finnish text is here.)
Book a Demo
Discover how Infrakit connects your entire infra project operations and drives value to every part of your business.