Destia – Riippa-Eskola Double-Track Railway revisited
We wrote about this railway project in Riippa-Eskola in 2013 and since then the project has been successfully completed in time. The methods that were used in the project by Destia were and still are advanced in railway- and other infra construction. There is a video of model-based production and quality assurance on railroad construction sites where you can see the methods used on Destia's Riippa-Eskola double-track railway project. The methods are still relevant and of course, Infrakit is included in the project.
You can watch the video here.
You can also read about the Riippa-Eskola case on our site here.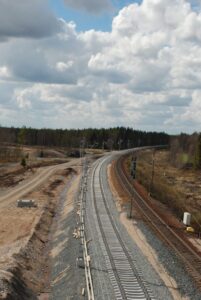 Book a Demo
Discover how Infrakit connects your entire infra project operations and drives value to every part of your business.