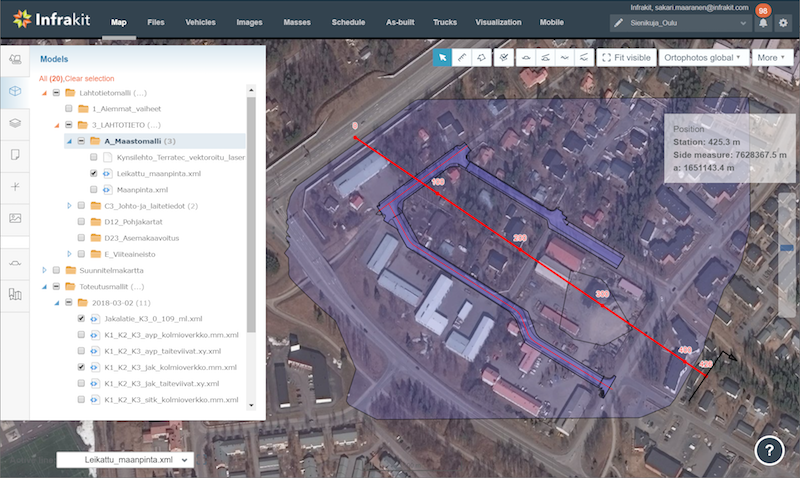 Sienikuja Street Project in Oulu, Planner's Perspective
Starting point
The idea behind the Sienikuja street project in Oulu was to carry out the planning, tender drafting, construction and handover phases with a model-based method. This project is a good example of a street renovation project in an area covered by a detailed plan, so it was well suited as a pilot project for Infrakit. The aim of the project was to modernize the current Sienikuja, Sienitie and Jäkäläntie (500 m), to continue Sienikuja until Rouskutie (140 m) and to build new systems for water supply and sewerage, lighting and stormwater sewerage, as well as to renovate the existing systems. Before the start of construction, there was a kick-off event on model-based construction, where the contractor, planner and client were present.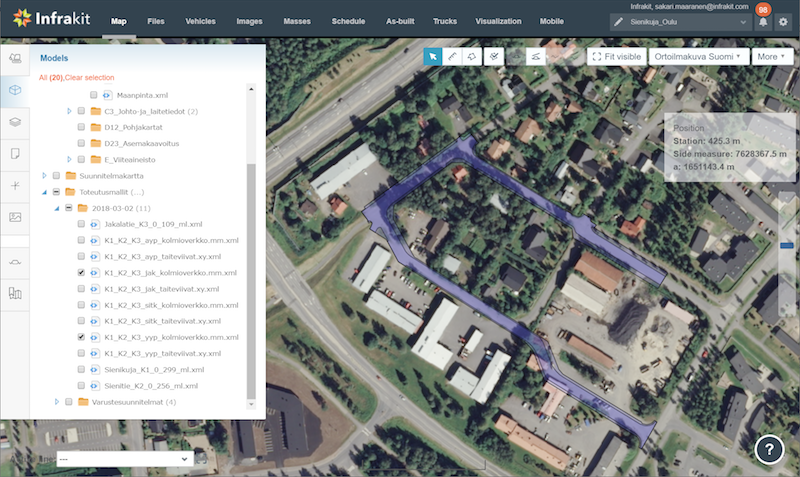 Infrakit was utilized throughout the whole lifecycle of the Sienikuja project: in the street plan and street construction plan, during tender phase of the construction, in quality control and construction support when constructing the street, as well as in the handover phase of digital material (2017-2019).
"The Sienikuja street project is a fine example of utilizing a model-based method all the way from planning up until construction and handover." Ville Suntio, Destia Oy
The Benefits and Usage of Infrakit in the Project
Destia, who is in charge of the project's planning, used Infrakit primarily on terrain visits, technical examination and visualization, as well as with client communities and third parties. In the beginning of the planning phase they created a project in Infrakit cloud service, where the folder structure of the digital handout material was created according to the Common InfraBIM Requirements draft guidelines of that time. Following this, necessary materials for the project's initial data were uploaded. On site the project and its uploaded materials were viewed via Infrakit Tablet. In addition, photographs were taken, an inventory was taken of the necessary sites and equipment, different design solutions and alignment options were considered and, when necessary, more terrain measurements were taken with an RTK-GPS device. In technical examination and visualization Infrakit served as planning support e.g. when utilizing different map views, when viewing background and planning maps one at a time and on top of one another and when viewing cross-sections and longitudinal sections.
"The most significant benefits of Infrakit relate to terrain visits, quality control during construction and planning support. On terrain visits we can view different design options and take photos and as-built measurements, which facilitates planning. Moreover, Infrakit can be used in meetings as a model examination tool. During construction we can monitor the quality with work machine automation. For example with the as-built measurements generated by work machine automation we can establish whether a constructed surface corresponds to the plans", Destia's Development Manager Olli Planting lists the benefits of Infrakit.
Would you recommend using Infrakit in similar projects?
According to Olli Planting, Destia will continue using Infrakit in planning projects the way they have before and he also recommends it for others. They are actively looking for more ideas on how to utilize the program.
"Infrakit functions well in supporting planning and construction, improving transparency, quality and interaction in these phases. The benefits of Infrakit are emphasized the more it is taken as a part of the lifecycle of the project."
Olli Planting, Head Designer and BIM Coordinator in the Sienikuja street project (Destia Oy)


Published 25.6.2019
Book a Demo
Discover how Infrakit connects your entire infra project operations and drives value to every part of your business.