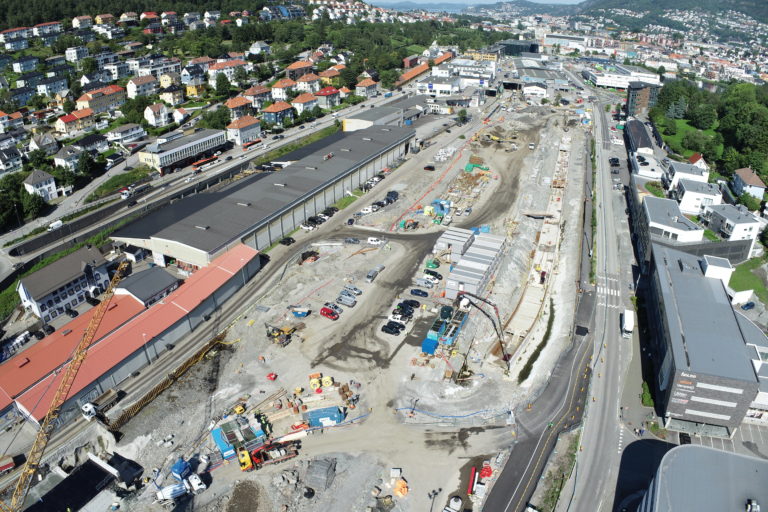 NCC is one of Northern Europe's leading companies in construction, infrastructure and real estate development. The group has approx. 15,500 employees and an annual turnover of SEK 54 billion (2019).
NCC is currently working on its eleventh assignment for Bergen Light Rail. The assignment, which has been named "D14 Mindemyren", has a total budget of NOK 800 million and will be completed in June 2022. The project will, among other things, consist of restructuring of the existing and establishment of a new infrastructure. (In Norwegian)
We had a chat with survey leader Trond Ivar Nordal and colleague from NCC, Morten Steine, since we were curious about how Infrakit has been used. This is the first time they are using the system, so we were of course excited about how Infrakit has initially helped them on their way with the project.
How did you get to know Infrakit?
Trond was able to inform that there were rumors about the software, and that it was his colleague and Head of Innovation in NCC, Mats Nyland, who recommended the use of Infrakit for this project. NCC had already used the system in a project at Eidsvoll.
Trond continued that one of his main tasks is the production of machine control data, and we were therefore particularly interested in hearing what experiences he and his team had had concerning this, and of course other areas where Infrakit was used.
Scale-accurate images from the air
With Infrakit, you have the possibility of taking pictures with your mobile that is placed in the correct location. Trond says that Infrakit had been used a lot for orthophotos, with scale images taken from the air using a drone. This has been a plus as everyone had access to these photos, both those who are planning and the construction management.
When everyone has access, everyone can see where things are in relation to what they are photographing, says Trond.
Trond goes on to say that orthophotos are absolutely necessary in the background for the project because one then collects basic data.
It is very nice with orthophotos because you can always see where the machines are in the drone image.
Specifically, he mentions that orthophotos are nice for the regular machine operators in the workplace.
The machine operators can enter their name and telephone number, and then you can see where they are calling from, says Trond.
Orthophotos in Infrakit powered by Pointscene
Quick solutions to problems
Trond's colleague from NCC, Morten Steine, adds that he and many others use Infrakit for various work tasks. In addition to using Infrakit for data flow between machine control, Infrakit is also used for rig and progress planning, he says.
Then, as our starting point, we take data from drone photos and survey lines/machine control. This saves the surveying team work when it comes to where routes go, etc., says Morten.
Morten also says that they actively use Infrakit to coordinate the work and plan operations by showing where constructions and infrastructure end up in relation to each other and the current situation.
In addition, one can document the progress status and show planned activities in construction meetings, and by using Infrakit in this way, it is possible to quickly explain, clarify, and solve problems. Without Infrakit, the alternative would have been physical inspection/measurement at the site, Morten adds.
An online solution and good support
Another plus point of Infrakit, which Trond mentions, is the software's web-based solution, which means that most people have easy access.
It is very good that it is a web-based software. You do not need to install anything, everyone has URL access. It is a big plus that you do not have to install anything, you have access in both the app and a browser, which is very good.
In this context, Trond can tell that new things are happening all the time due to the rapid development, and that a short time ago a new machine control already came into the workplace.
So I contacted Anders now, and he responded quickly, and I think it's very good. With support, you get an answer right away, very good, says Trond.
Infrakit is a BIM platform that has integration with all construction machines, and with the rapid development in the field, good support is very important. One of Infrakit's main goals is precisely to provide the industry's best support. Infrakit provides personal service 24/7, good and basic training, presentations, webinars, guidance material, and clear help pages. We always provide continuous updates and solutions if you need customer support.
You can read more about Infrakit's app here.
Book a Demo
Discover how Infrakit connects your entire infra project operations and drives value to every part of your business.