E6 Arnkvern-Moelv road construction project in Norway
Initial situation and need for change
In November 2017 Veidekke AS won the bidding for the Arnkvern-Moelv road construction project. The project is massive and consists of the construction of 24 km of four-lane motorway, including several bridges, two railway bridges and two short tunnels. The project is valued at 245 million euro and is scheduled to be completed by October 2021. The road is one of the busiest in Norway and in an area with a high traffic growth rate, which is why the old road with a 80 km/h speed limit will be replaced by a four-lane motorway with a 110 km/h speed limit.
The road goes through the Ringsaker municipality, home to one of the largest farms and cottage communities in the country. In addition to local traffic, there's significant traffic coming through the area from northeastern, central and northern Norway. One of the greatest challenges in this project is organizing proper traffic guidance as the new section of the E6 road has been built side by side to the old road. The nearby towns are very close to the construction site, which is why there are several challenges having to do with dust, noise, vibration and treatment of farmlands.
The use of Infrakit in the project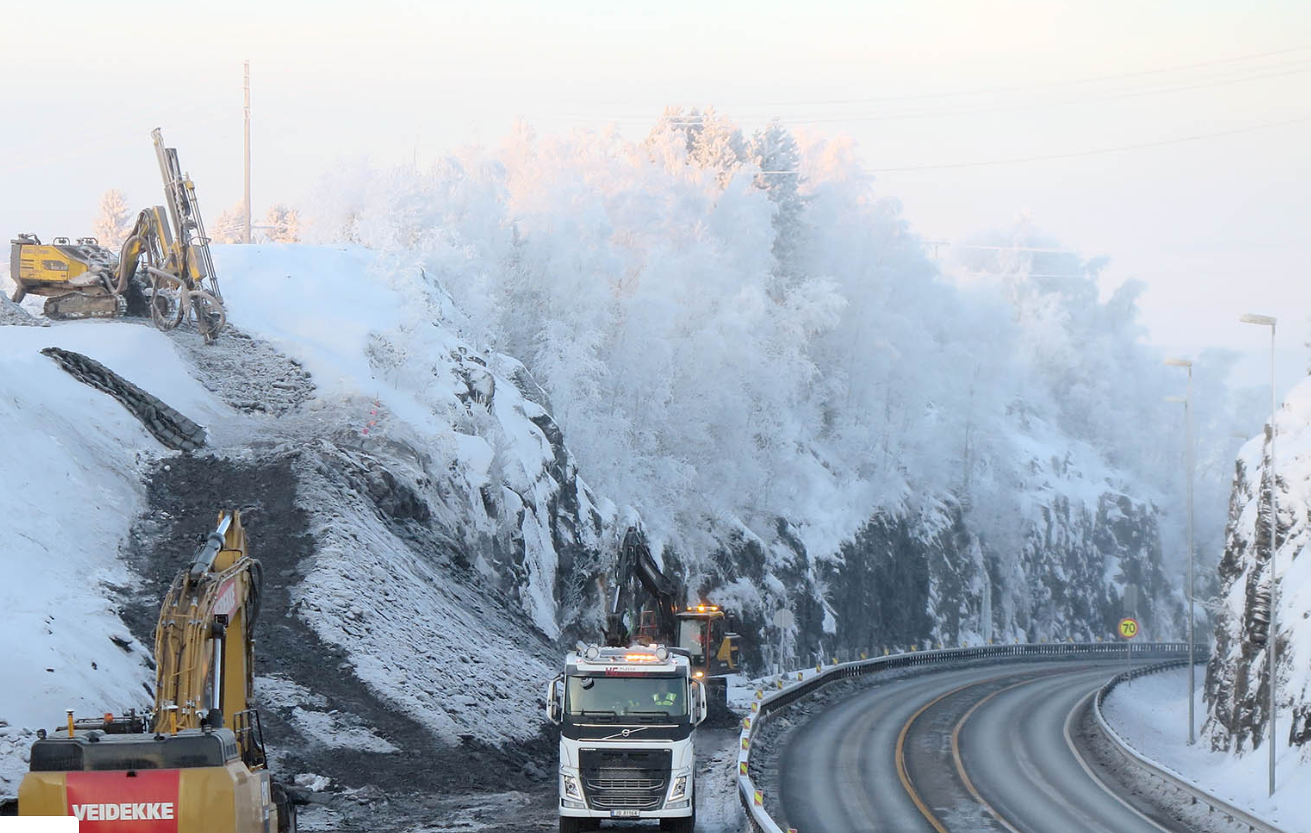 Jan Steinar Stein, the Surveying leader from Veidekke ASA tells how Infrakit was chosen to the project:
"We learned about Infrakit from our surveying manager Hallvard Holth, who suggested that we should try it here on our project. We first had it for a test period, to see if this was the right solution for us. We found out many benefits, that I have listed here below:
– It is possible to send data to almost any type of machine control systems. At our site we have Leica, Novatron, Makin3D, Digpilot, Trimble and Topcon
– Our goal is to only have one platform is needed to collect and share all data and information. We are now in process to connect Trimble and Topcon, Makin3D will come soon
– Using Infrakit, we hope to only need one platform for data transfer, and not six, as we normally would have
– Possible to see where almost all the machines are located and thereby give them the data they need
– We get the measurements and log-points from the excavators, straight into Infrakit, without the need of any other software
– We automatically receive geometric controls done by the machine operators, who codes the points correctly and measures it in the correct layer of the model
– On the computer or tablet we can choose what we want to see of roads, models, constructions, ex pipes and cables, project boundaries, property boundaries, restrictions and considerations, action plans, traffic and phase plans, rig plans, etc.
– We can easily choose seeing many or only one model
– It's great to be able to generate and view cross sections through roads/models, and be able to see where new roads, layers, new pipes and existing terrain are located
– We get georeferenced photos from the field, taken with the Infrakit app, and get them right away located at the right place on the map"
"We have made several suggestions for improvements, that have also been implemented into Infrakit, and by this have made it better, not only for us, but also for all other users. Some of these improvements are listed below:
– Automatic check of the accuracy of the excavators, and also make a documentation of it
– A filter to choose which machine to receive certain type of data. The reason for this: different machine control systems need different file types and only to send necessary data to the machines in their working area."
"The company Infrakit has listened to our needs are and tried to fulfill them. Infrakit has become an important aid in our working day", Jan Steinar Stein summarizes.
Book a Demo
Discover how Infrakit connects your entire infra project operations and drives value to every part of your business.