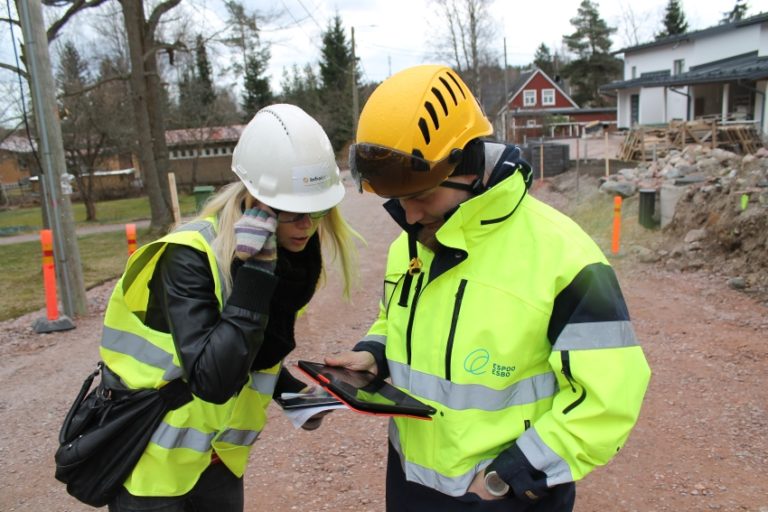 CASE: City of Espoo – Tammitie Residential Street
Starting point, needs and solution
"Before Infrakit, we used wooden sticks: someone watched from the other side of the rod to a label, and then your co-worker would show where the new layer should be and should they dig something out – with the help of measuring tape"
Jari Kainuvaara, BIM Manager of City of Espoo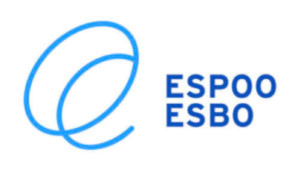 The City of Espoo wanted to move forward from traditional implementation (paper plans and measuring
sticks) to utilizing BIM to enhance their infrastructure construction projects effectiveness
considering both scheduling and costs.
"Infrakit was in use right from the start. The kick-off meeting was held with Finnmap Infra, the design engineer company. We agreed to use their project bank in order to exchange the design data between all devices. Basically every foreman has an iPad and every construction site has their own iPad as well in use. Management has access to the project bank and excavators have a simplified view", describes Kainuvaara.
Benefits of Infrakit in the project
"From project owner's point of view, Infrakit's most valuable benefit is that the construction project becomes transparent – as-built information clearly shows how every phase has been implemented", praises Kainuvaara. "In Espoo, activities seem to be executed quicker and the project owner is excited for the cost savings."
"Working with BIM and 3D machine control is really great — I can easily see where and how excavations have been done. It's nice see how close we get to the final result and that the information can be shared."
"The same design material can be seen in the excavators. The excavator driver sees in real-time where and how things have been done and they are pretty excited about it. The drivers have access to more data and they can work more independently. There is no need to check, wonder and ask someone to show them what to do next. To site management Infrakit is a great tool for training and monitoring the drivers."
Difference to traditional methods
"The difference can be seen when the contractor sends us the as-built information from each phase, so that we can keep up with the project progress and even the models are completed with the as-built data. On Infrakit's as-built map I could, and still can, see what has been surveyed and in what pace we are progressing. Site management found this feature extremely helpful as did we, the project owner. This view, in my opinion, is the best benefit of Infrakit — automatic, real-time updates of the as-built data and maps. That gives us confidence on how the project progresses smoothly", describes Kainuvaara.
"If some piece of data looks strange, I can immediately see what it is about. From Infrakit's main view I can change the settings or models and look at the design materials if needed. It is brilliant in my opinion that I can zoom in on the map, hide water pipes and other layers. You can simplify the view: for example, if you want to see where the plot boundary meets the crosswalk. Traditional paper documents have an absurd amount of just black-and-white lines. Now I can distinguish the layers based on colour and hide unnecessary layers so that only essential layers remain."
"When there are surprises, such as the rock surface is closer to road surface than expected, the issue will be discussed with the management, and the design engineers will come visit the site. Because Tammitie is Espoo's pilot project, we want to work closely with the design engineers. Since the beginning, we have had a deal with the design engineers of Finnmap Infra that all changes will be updated automatically to the designs so that we can solve problems as quickly as possible. That way everyone's job becomes easier. Synchronizing the data between designers and us was pretty convenient: when I notice an error, I call the design engineer who updates the data. Simple as that."
Would you recommend Infrakit?
"Yes I would. I do hope myself that we would use Infrakit in future projects as well. The benefits are obvious."
The purpose of the pilot was to test-drive the BIM designs in the construction environment as well as in the machine control and surveying implementation.
Machine control system: Scanlaser
Site management tool: Infrakit
Reference station: SmartNet
Data transfer formats: IM3,dwg, dxf, xyz
Infrakit customer cases 2016 (subtitles in English)
Published on April 15th 2016
Book a Demo
Discover how Infrakit connects your entire infra project operations and drives value to every part of your business.