Business Opportunities for Land Surveying Companies
Infrakit enables new business possibilities for land surveying companies
With Infrakit, it's possible for land surveying companies to serve their construction company customers in a brand new, deep and exciting way. Using Infrakit land surveyors have a possibility to provide site foremen and managers an unprecedented real-time view into the progress and quality of their site.
Design and surveying information can be made available any time, with the use of internet browser or an Android field tablet computer. Tablet computers or mobile phones can be distributed to excavator and dump truck drivers enabling them to become part of the real-time site information flow.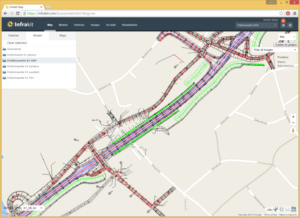 Infrakit is looking for partners in land surveying companies to bring the digital revolution to work sites around the world!
GNSS surveying equipment (used by land surveyors, foremen and supervisors) and 3D machine control equipment fitted on work machinery can also be directly integrated with Infrakit to provide real-time data sync over the internet.
This means that any GNSS device on the field can be used to make measurements using designs and other data from Infrakit, removing the need for a pre-measuring data-prep work phase.
As land surveyors are experts in handling digital data, we see that their role will further increase in the coming years as new mobile tools such as tablets are adopted on the field.
Read more about the integration between GNSS equipment and Infrakit Android App here.
If you want to become a part of the Infrakit family, please contact us here or directly email our CEO Teemu Kivimäki teemu.kivimaki@infrakit.com.
Published originally: 30th of Sep, 2015.
Book a Demo
Discover how Infrakit connects your entire infra project operations and drives value to every part of your business.