Manage all survey data easily
Infrakit offers you the best possible tool for data management. We enable access for all parties to the same real-time view to make use of data for construction and quality assessment purposes. As all necessary construction data is available in a single cloud service, information becomes easier to share, and both time and material resources are saved.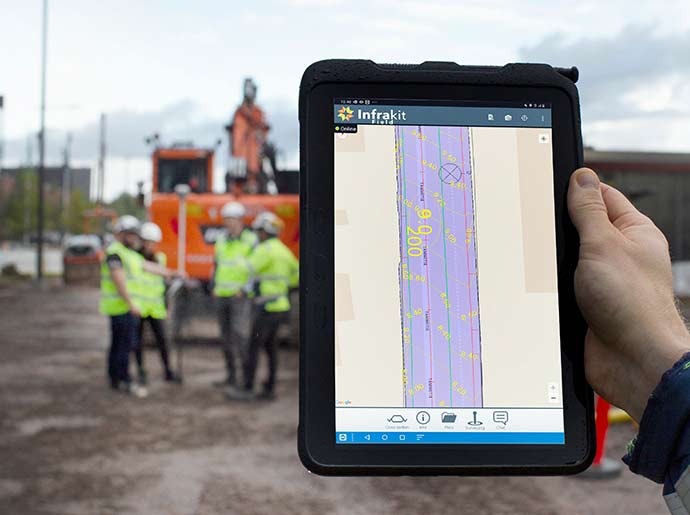 Visual quality control
With the platform construction's overall quality is improved by real-time monitoring. Real-time view of the project enables you to fix errors and make quick changes, when necessary. This saves time and helps you stay within the schedule.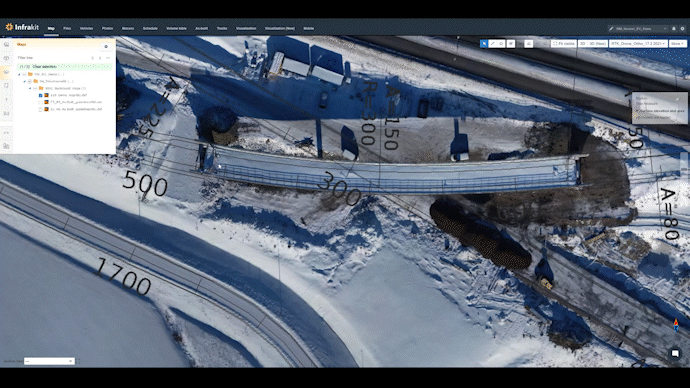 Handle survey team data effectively
Take the pain out of capturing and documenting survey points with Infrakit, which enables you to have a centralized management system to share surveying and as-built data within your team effectively. Integrations with all leading machine control systems takes both survey- and as-built points straight from the site to the cloud in real-time which saves you both time and effort. All data is made available visually on a map and in 3D.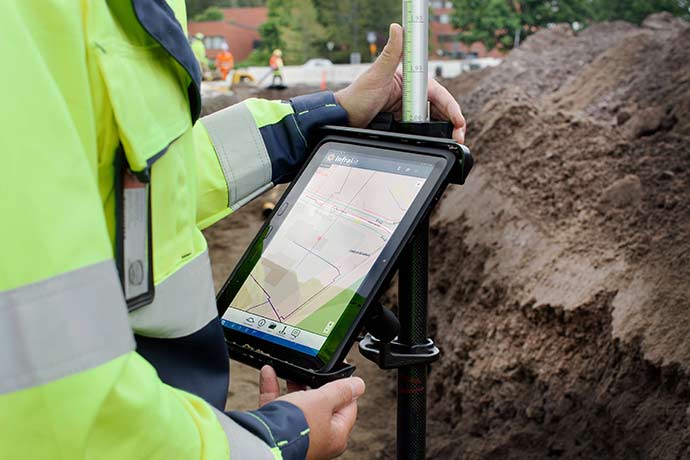 Real-time project progress follow up
Infrakit collects real-time data from the worksite to provide all parties with up-to-date information on how the site is progressing. This information is available on different devices from computers to smartphones.
By enabling real-time progress information from the site to the office and vice versa we're improving trust throughout the organisation.
Since 2010
We have been helping our customers to digitalize their infra projects since 2010 – over 30 billion euros of infra assets has been built with Infrakit
in more than 3000 projects in 11 countries
8 months ahead of schedule and within budget
"As a surveyor and person in charge of quality, I see the matters related to these as-built measurements and their real-time availability as the greatest benefits. Infrakit has enabled us to transfer data in real time from the office to the site and back between all parties involved in the project. It has supported our model-based quality assurance, and it is open to all parties involved in the project, which creates a foundation for trust between the client and the contractor."
"Infrakit provides a good overview of the models used in the machines. You can see where the machines are, and you can easily retrieve data, the biggest difference between before and now is that the process is now more visual; you have a better overview, and it is easier to orientate yourself."

Jarle Vatne, Project Manager at Risa
How we ensure customer success
Our experienced experts will work closely with you, visiting your construction sites and offices when needed. We will always design our service solutions according to your needs in order to ensure the best results.
Deployment projects
With the help of an Implementation project we can achieve the best possible result together based on our customers' feedback.
Training
We offer a comprehensive training on Infrakit Basics and tailor a precise training to meet the your needs, taking into account the project's goals and different roles and tasks.
Professional services
Together we will ensure we get your projects through the finish line by using the Infrakit platform.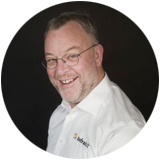 Jan van den Brandt
Business Development Manager, BeNeLux, DACH and UK