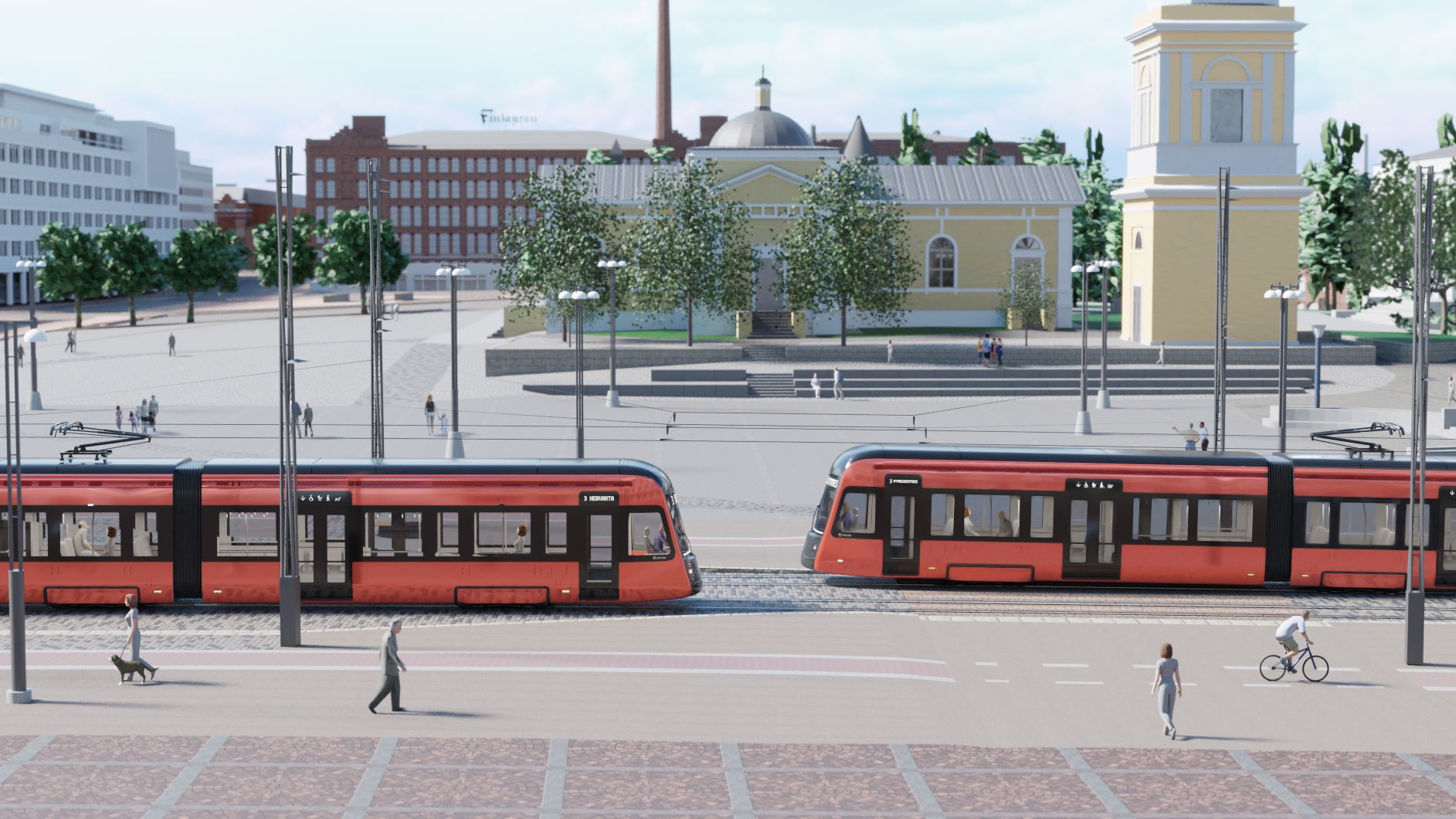 Infrakit included in Tampere Tram project
Starting Point
A tramway is being constructed in Tampere to make everyday life easier in the city and to enable its growth and development. The tramway is constructed to serve the most congested sections of the public transportation system and to help the growth of the urban area. Tampere grows with over 2,000 new residents every year and a tramway is an efficient and cost-effective public transport solution for a narrow neck of land.
The project has been divided into two sections. Construction work for section 1 began in the spring of 2017 and will continue up until 2021. It covers the lines eastbound from Pyynikintori to Hervantajärvi and to Tampere University Hospital. Section 2 covers the line westbound from Pyynikintori to Lentävänniemi. The total length of the line tracks will be 23 km. Infrakit has been deployed since the very beginning of the project and will be used spanning the whole duration of the project.
To take care of the project, a tramway alliance was formed by the client, i.e. the City of Tampere, and the service providers, i.e. NCR Group Oy, YIT Construction Services and Pöyry Finland Oy. In an alliance contracting model both the client and the service providers will be in charge of planning and construction of the project through their alliance organization.
The Benefits and Use of Infrakit in the Project
NRC Group's Teppo Viinikka, the Head of Surveying for the tramway alliance, was the main user of Infrakit in the projects first phase. He describes introducing Infrakit to the project and its benefits:
"For us Infrakit also functions as the handover tool, meaning that all the handover material of the project is compiled on the platform and delivered to the client. As we transfer the material, we go through the sites to be handed over, related documents etc. in Infrakit with the client. Infrakit is also the tool for Development phase 2, which means that initial data for planning, alternatives for track lines etc. are collected there and can be viewed on a mobile phone during field visits. We're also planning on using Infrakit as a maintenance tool for the tramway, but no decision has been made on that yet."
"All who work on the project have the same materials in use. The same information can be updated simultaneously to everyone and it's natural to add photographs and additional documentation directly to Infrakit. In construction it's critical that everyone working on structures has the same plans and that new plans can be accessed immediately. The work is done in a quick pace, so there's no room for errors. It also helps when refining project designs, when planners using Infrakit know how to search for measurements entered by machine operators and surveyors, so there's no need for the traditional copying and transferring of files."
"Now we have one place where we can find all the information. The information is up-to-date and the whole process is a lot faster. Materials can be compared directly without separate applications and all the site personnel are producing important documentation with measurements, photos etc. All this can be found filed correctly and with location information in Infrakit."
Constructing a tramway is a time intensive job requiring numerous alterations along the way, since the tramway will run in the middle of an active urban area:
"When doing construction work on the main street in the city center, it's important that the essential tasks are performed in a precise way. When we utilize new aerial photographs of the area via Infrakit and activate the surveyed material on top of that, we can plan traffic arrangements for the duration of the work and think several steps ahead. Especially the supervisors have been happy that they can see directly on the map where the already installed tramway tracks and pipelines are and that there's always a recent aerial photo of the area underneath, plus we can add designs for future structures on top of it."
"When constructing a tramway the benefit is precisely that we have updated design information in use and all this can be viewed real time without separate software and know-how."
"So far we only have a moderate amount of material in Infrakit: ca. 2,500 documents and 1,000 information models, pipe network material, other designs and background maps, ca. 25,000 surface measurements and mapping information brought by surveying on top of that. Nonetheless everything is manageable with the clear file structure and organization. These numbers will grow noticeably as the project progresses, so information management via Infrakit is a very important feature for us."
Current situation
The first phase of Tampere's Tram project is now 90 percent complete, and the savings are estimated to be up to 26 million euros. Construction for section one started in the spring of 2017 and traffic is set to start in August of 2021. Section two of the project started in October of 2020 with construction set to continue until 2024. Passengers have been able to participate in testing the tramway system since the beginning of 2021.
Once the tram line is operational you can travel from Pyynikintori to Hervanta and Tampere University Hospital. Test runs in this area took place between 15th – 26th of March and were completed according to plans.
During the tests the whole track infrastructure was thoroughly tested in various speeds with several trams on the move simultaneously.
Due to the current Covid-19 pandemic open tramway traffic trials with the public have been postponed and testing will continue with a preselected group of less than 10 people in the meanwhile. Updates regarding the rescheduling of testing will be published during April.
Would you recommend using Infrakit in similar projects?
"Infrakit is a pioneer on this field. In the future, all construction work and related design work will be based on open data and cloud services. Paper images will no longer be used. At the moment Infrakit is the only tool this versatile on the market. So yes, I definitely recommend using Infrakit. And so do everyone else, as we can see from all the big infra construction projects in Finland.
What is special about Infrakit, is that if it doesn't have a certain feature yet, it's likely that it will soon be developed because of demand," says Head of Surveying Teppo Viinikka.
Interested in reading more about the projects we have worked on? Head on over to our cases!
More information on this project: https://www.tampereenratikka.fi/en/
Infrakit is an industry-disrupting digital platform to increase infrastructure construction productivity. We are driven by the goal of a sustainable infra industry – while offering 20 % savings in total project costs. Our customers include the most advanced construction companies and infrastructure owners in the world. We have been helping our customers to digitalize their infra projects since 2010 – over 30 billion euros of infra-assets has been built with Infrakit in more than 2000 projects in 11 countries.
Book a Demo
Discover how Infrakit connects your entire infra project operations and drives value to every part of your business.